ThursDAY 11th APRIL 2013
I have done some more investigating. Christine has a suggestion for a list to try but I am still finding out about this.
Here are some lists that look suitable for us and I am going to suggest we look more closely at three of these. I have documented how to look at these lists below and at Simple Solo Ads – Part 3 – An Adventure With List Brokers.
As before there are no guarantees as to the results we might get.
Recommendation 1: LeadsandData Business Opportunity (Bizopp) Seekers
I have discussed this one before below, it's main attributes are, it's cheap and it is quite well targeted. If the decision is left to me then I would probably give this a go.
$25 – Cost per 1,000
$10 – Cost for hotline per 1,000
$0 – Cost for the emails per 1,000
$25+$10=$35 per 1,000
5 x $35 = $175
$175 is below $750 minimum order so …
22 x $35 = $770 (22,000 to send to)
Recommendation 2: CNS Marketing Opportunity Buyers Mailing List
Well targeted, people have paid to be on this list.
Minimum order – 5,000
$90 – Cost per 1,000
$50 – Flat fee for emails
5 x $90 + $50 = $500
Recommendation 3: Money Mountain Opportunity Buyers Mailing List
Well targeted buyers list.
Minimum order – 5,000
$100 – Cost per 1,000
$50 – Flat fee for emails
5 x $100 + $50 = $550
Some others also good candidates, please note that some are buyers lists:
Wednesday 3rd April 2013
I think we have got all we are going to get from the Arcamax run. Whilst not a total washout it wasn't very impressive and I don't think there's much point in doing another run with them. I think the best was 12 opt-ins which works out at $6.66 per lead and if one of those converts to a member it will be well worth it but it's hard to measure that given the time lag between opt-in and conversion. Either way I think $1 to $2 per lead is a better aiming point until people have got sufficient leads and business that they can afford to be more fussy.
So what next? Is everyone happy to try some more Nextmark lists with the knowledge that some runs may not work and money will be lost in those cases. I still have the LeadsAndData list where we can send out to 22,000 emails for $770 and I can look further into the Opportunity Buyers lists etc.
There is also the possibility of utilising larger solo runs by buying 2,000 or more clicks at a time.  Solo's work, my average is about 35% opt-in, 40%+ with some solo runs. The downside is they are all IM targeted lists so you do not get so much fresh blood. This means it's more about quantity rather than quality.
So, shall we:
Continue looking at Nextmark type lists?
Explore large solo runs?
Explore other sources?
What are your thoughts?
Friday 29TH MARCH 2013
This how you check the stats from Arcamax:
"You can check your stats with us Real Time and Online – Anytime!…once your campaign has launched.
To login:
https://www.arcamax.com/cgi-bin/aflogin
User ID: 4134
Password: 4134BRISTOL 
Click the "Ezine ad stats" report. 
When you login, set the date to the campaign date.
Under Breakdowns, check full detail. For Detail columns, check URL and subject to see the ones from the drop. Check the commas box to help the formatting.   You can read results in the web interface or export by spreadsheet with the output option."
And here are the results, you'll need to click it to make it big enough.
And my stats which vary partly because of testing, again you'll need to click them.

The open rate is fairly average but the click through rate is low at 0.06%.
Not terribly inspiring but let's wait until after the weekend and the Easter holidays.
—————————————————————————————————
Objective
To use our collective buying power to get better quality and/or more leads more cost effectively or where the cost of those leads might be too expensive for individuals.
Interested people
Arbitrarily, I think we need at least 8 people.
So far and in no particular order:
Usman Ali
Wayne Gillies
Donnaya Jones
Christine Chow
Eddington Pindura
Sophia Alcina Soul
Kelly Donagan
Stuart Chalmers
Target Sources
Going to investigate lists.nextmark.com as this is reputed to be a very good lead source as long as good lists are selected. I'll aim for the end of the month or sooner if everyone is in a position to do it when ready.
Attributes:
Better targeted lists
Buyers lists available
Can be very large lists, typically 100's of thousands to 100's of millions. We effectively purchase segments of a list
Usually mailed to emails by the thousand's
Basically upmarket solo ads
May have minimum amounts that can be purchased
Cost typically from $50 to $200 per thousand
Risk is about medium I would say, we can start with the minimum to test a list and then scale up depending on cost/return On Investment.
Other possible targets are:
Expensive banners although I find these are a much higher risk.
National adverts in highly target online/offline magazines or newspapers
TBD
lists.nextmark.com
lists.nextmark.com is a search site for lists. The list are owned by various individuals or companies. When you look at a list there is a set of standard information which I will explain some of below and add to as things progress. Once a list has been identified the next step is to get in touch with the list owner or broker and find out a little more about it. If it looks good then we can buy the minimum amount which is often 5,000 and see how it goes. If the results are good in terms of opt-ins and some conversions then we can go back to that list and scale up. If the results are not good then we move on to another list.
This process may require some trial and error. It is unlikely that other marketers will recommend a list but I might ask to see if anyone is willing to.
Here is the list I am currently targeting "AVANTE MULTISELEX – ON MY OWN! BUSINESS OPPORTUNITY PROSPECTS". I have left a voice mail and emailed them, I am waiting for an answer now.
Here is an explanation of what things mean as I understand it and from the glossary on www.Nextmark.com:
First of all there is a summary description optionally followed by a more detailed description.
The segments section:

M=1,000

F=Flat fee

Note that the date is the last time the counts were updated.
Universe – The universe is the total count of the names on a mailing list. The universe is sometimes defined as recent buyers (e.g. "24-month buyers"). However, that's more appropriate as a segment of the universe.
Total Universe / Base rate:

The number of records on the list
The cost per 1,000 (M=1,000) ($90 per 1,000 in this example)

Total Universe – TBD
Hotline – A hotline is a segment of a mailing list that represents people who have had recent transactions with the list owner. These may be buyers or subscribers who purchased in the last 30, 60, 90 days etc. The hotline is a desirable segment of the mailing list because it has been proven to be a generally more responsive segment. As such, hotlines typically cost a bit more to rent.
Monthly Hotline in the above example:

The the number of people who have transacted within the last 1, 2, 3, 6 months
The cost per 1,000 ($10 per 1,000 in this example)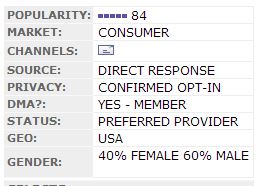 Popularity – The list popularity index (LPI) is a mailing list's popularity rating on a range from 0 to 100, with 100 being the highest rating. The LPI scores are calculated using a proprietary algorithm that analyzes recency and frequency of more than 100,000 outside list recommendations made in the trailing twelve months of the scoring date.
Market – A market is the target audience for a direct marketing campaign. The market may be generally defined as business, consumer, government, or other. The market is more specifically defined through the segments of the mailing lists chosen for the campaign.
Channels – I think this the primary communication type, for example, postal address.
Source – The source is the origin of the names on a mailing list. For example, names might be sourced from catalog buyers, magazine subscribers, trade show attendees, etc. It's important to understand the source of a list because it is a good indicator of its responsiveness to your offer. There is a big difference between mailing lists sourced from purchasing behaviors and mailing lists that are surreptitiously compiled.

Compiled lists – A compiled list is a list that has been created from multiple sources including public records, online registrations and surveys, direct response, directories, phone books, or court records. These are not desirable as their actual source is less qualified. Sometimes lists are made up of mixed sources so if the percentages can be established it may still be worth using.
Direct response – Is a type of marketing or advertising that allows potential customers to respond directly to the marketer to place an order, send a donation, fill out an application, request or supply information. This is a desirable attribute.
Buyers list – All the members of this list have bought something at least once. Very desirable.

Privacy – I think this means that the data was or was not obtained by clear opt-in to the list.
DMA? – The direct marketing association (DMA) is the leading global trade association of business and nonprofit organizations using and supporting direct marketing tools and techniques.
Status – I think preferred provider is pretty good. The NextMark Preferred Provider Program gives list owners the attention they deserve through better ranking and highlighting in search results. It is designed for list owners who want to stand out from the crowd.
GEO – Where the people in the list come from.
Gender – gender split by percentage.

As you can see above once you buy you are pretty much committed to a run.
Net Name – A net name arrangement is a clause in a list rental agreement that provides credit for duplicate names in the mailing list being rented. When renting a mailing list, it is likely that list contains some of the same names on your own house list or on other lists you are renting. These duplicates are typically identified through the merge/purge process. The net name arrangement consists of a percentage and a run charge. The percentage is the minimum percentage of the quantity ordered that must be paid at the full rate. The run charge is the rate charged for the duplicates. For example, suppose you order 100,000 names at $100/M with an 85% net name arrangement and a $3/M run charge. Then the merge/purge process reveals 9,000 duplicates. In this scenario, you would pay for 91,000 names at $100/M and 9,000 names at $3/M. Net name arrangements are not available on all mailing lists and are typically only available on larger orders. I think this pre-supposes that there is still worth in sending to the same email address more than once, it will result in it being more noticeable and/or a subsequent view for the recipient especially if there is an interval between the first and subsequent emails.
Cancellation fee – A cancellation fee is a charge that is applied to the buyer of a mailing list when an order is cancelled. If the order has been run by the service bureau, then run charges may also be applied along with the cancellation fee.
Here are some costs according to two example lists
AVANTE MULTISELEX – ON MY OWN! BUSINESS OPPORTUNITY PROSPECTS
The minimums are 10,000 names.
$95 – Cost per 1,000

$10 – Cost for hotline per 1,000

$10 – Cost for transmission per 1,000

$95+$10+$10=$115 per 1,000

10 x $115 = $1,150
LeadsandData Business Opportunity (Bizopp) Seekers – cheap!
$25 – Cost per 1,000
$10 – Cost for hotline per 1,000
$0 – Cost for the emails per 1,000
$25+$10=$35 per 1,000
5 x $35 = $175
$175 is below minimum order so …
22 x $35 = $770 (22,000 to send to)
Questions
Apart from the available information above it may be worth asking a few questions such as:
Policy on pricing?

Deposit?
Money up front?
Credit?

Ask broker about their niche?
Will they allow landing page destinations, if not then no good to us?
Can I pick time of day?
How often do they email out? For these prices we want a well qualified and responsive list.
Continuity – do users come back to it?
Typical data wanted, not best sample, we don't want old data.
An Answer back from "AVANTE MULTISELEX – ON MY OWN! BUSINESS OPPORTUNITY PROSPECTS".  I am still talking with them and it looks like their actual pricing differs from what they have on lists.nextmark.com so these will change again soon.
Do you allow landing page destinations in the swipes?[]  I don't know what you mean by this. I further clarified "I mean sending an email out with a URL link through to a Squeeze Page / Lead Capture Page." 
What's your policy on pricing?

Deposit?
Money up front?[]  – We do require a prepay for all clients we have not previously done business with.
Credit?
Please confirm the following as specified on your Nextmark listing:[]  This was postal pricing

$95 – Price per 1,000
$10 – Transmission charge per 1,000
$10 – Hotline per 1,000[]  this is the recency charge to take the newest names that have been added to the file since the last update

What is your niche speciality, e.g. I am interested in internet marketing and training?[]  – We run campaigns for all verticals. Botox, Juvederm, AARP, Crate & Barrel, DirecTV, DishNetwork, and small mailers.  Quite a mixed bag, I'm not sure that this is well targeted for us but maybe it would work well as if they are seeking business opportunities and don't often see internet marketing as an offering then it might perk up interest.
Can I pick time of day? What time and day is your list most responsive to?[]  You can pick a time and day. If there was a magic time of day to send a campaign, everyone and their mother would send then. A moot point as some believe the send time can make a difference.
How often do you email out?[]  We run 2-4 campaigns a day. That's quite a lot.
How well qualified and responsive is your list?[]  on average, we see a 10-16% open rate and a 1-3% click through rate. The rates are a little on the low side, maybe 100 clicks could be expected whereas I would normally expect about 150 clicks for 5,000. The real question is how good are the leads, if we got one sale through to Elite each it would be worth it. 2 to 4 campaigns a day is quite a bit.
Continuity – do people re-use your' list?[]  Yes Unlikely to say no really!
I'll carry on looking at some other lists to see how this compares.
It turns out that this list is aimed at low end purchases so have asked if they have another suitable list.