Fiverr
Fiverr is a web site that lets you buy or sell goods or services for a base price of $5. Things can cost more than $5 but the base product always costs $5. After that optional extras can be added for typically $5, $10 , $20 etc.
As an example you might want a short HD video created for $5, for an extra $5 you can have it produced in a higher quality HD and/or for an extra $10 music can be added.
A Fiverr job is known as a gig.
Like eBay each seller has feedback and other details that help you determine whether you want to place an order with them or not. Here's an example in which this seller has achieved 5 stars and everyone who has used him/her likes him/her. The delivery time is about 1 day and you can see that he/she has 3 orders to get through before tackling the next job that comes in. This seller is at level 2 of 3 levels where level 1 is the start and level 3 (top rated). A level 3 seller will have worked hard to get to this point but that takes time and a seller at level one is just as likely to be excellent at what they do.

Sellers show samples of their work either using still images or video's so you have a good idea of what you are going to get. Often the samples you see are work that they have done for others. In this example the grey dots below the picture represent the samples. If you click one it will show an image or a video as appropriate to the gig.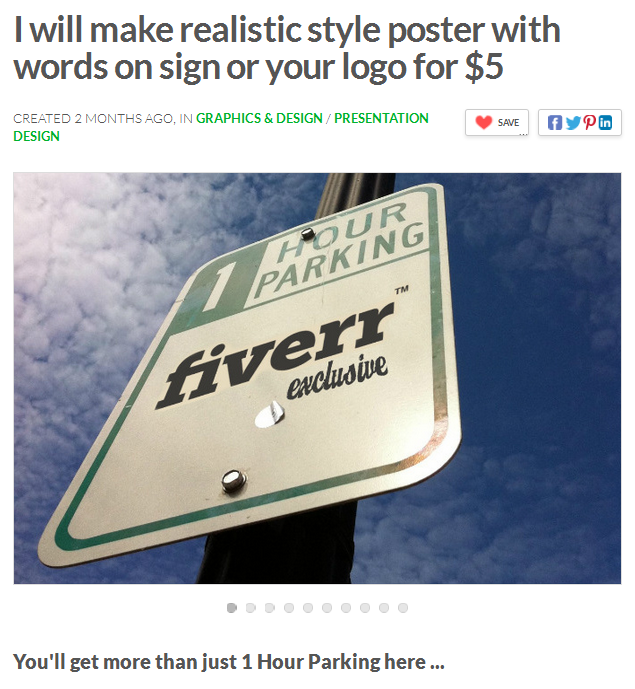 There are 11 major categories and over 120 categories including the sub categories. Here are the major Fiverr categories at the time of writing.
Advertising
Business
Fun & Bizarre
Gifts
Graphics & Design
Lifestyle
Music & Audio
Online Marketing
Programming & Tech
Video & Animation
Writing & Translation
Fiverr has a messaging system so that seller and buyer can communicate with each other.
There's a shopping basket and checkout process and you might very well want to buy more than one gig at a time.
You can collect sellers as you go along so if you see a gig you like but maybe don't want to buy just yet then you can collect it. This is the same as having a favourites list.
Screen Shot
Pros
For the times I have used Fiverr everything has turned out well. Much of the time people over deliver. It's $5 so even if the odd gig doesn't turn out quite right it's not going to hurt.
Low cost
Time saving
Usually fast turnaround
Seller feedback
Lots of variety
Outsource skills you haven't got
Business and domestics services and products
A shop window for sellers
A great place for people in poorer countries to market their skills to the richer countries.
Cons
The Fiverr web site is simple and easy to use. Wherever there are people there can be issues so in the same way you might use a site like eBay, pay the same caution here.
Not all work done on Fiverr is of a high quality. Sometimes that doesn't matter and sometimes it does. For example, if you wanted lots of Twitter followers then it might be important to get real active followers and ones that are interested in your niche. If you wanted just a high numbers of followers then quality might not be an issue.
Check the sellers feedback. If someone is new and there is no feedback trail then you will have to take a chance. If their feedback is not so great then maybe look for someone else.
This con is not exclusive to Fiverr or their fault and their customer service will normally do something about it if it happens to you and you report it. If you are a seller, another seller with the same type of gig may try and bury you by ordering a gig from you then canceling and giving you a bad review. This bad behaviour can occur between competitors in all markets on or offline.
A Special Note About Feedback
Feedback is a great indicator of a sellers work but it's not all about the seller, there are bad buyers out there that can sully a good sellers record. If you see 100% good feedback that's great but if a few people complain whilst the vast majority give good feedback about the seller then it's probably best to ignore the bad feedback as it may be from malcontent buyers or worse, other sellers trying to sabotage their competition.
Sellers Fees
If you are a seller on Fiverr then Fiverr will take 20% comission and pay you via Paypal or their own revenue card so for a $5 gig you would actually receive a little under $4 due to Paypal's fees. There is a 14 day delay in getting paid and I quote:
"Once the order is marked as complete, the order will begin to clear for 14 days to insure Buyer's satisfaction and financial processing. After 14 days, you can withdraw the cleared revenue to Paypal or to your Fiverr Revenue Card."
Fiverr's revenue card has a different fee structure to Paypal and looking at their current fees it would only be worth having one of these if you sold a lot of gigs.
Who Might Use It?
Anyone could use Fiverr but as an internet marketer I know that many internet marketers use it as a low cost outsourcing resource.
Some of the sellers on Fiverr are very skilled and take on work outside of Fiverr so if you find somebody you like on Fiverr you can negotiate bigger jobs with them. Fiverr can be a shop window for sellers so that you can get a taste of what they can do.
As a seller you too can use Fiverr as your shop window.
Affiliate Program
Fiver has affiliate program so if you want to make a little commission by referring Fiverr to others then go to display.fiverr.com and sign up. It's not a case of just signing up and your in, they will vet you a little to make sure they are happy to be associated with you.
The back office for the affiliate area is quite good with taggable links for tracking, analysis and commission reports, copious banners and you get an account manager to help you out if you need it.
A Sample Experience
I wanted to get a new logo created and I have poor design skills so I found someone on Fiverr who's sample logos I liked and who had good feedback. This seller was in India so I knew there might be some time zone delays. I wrote a brief of what I wanted which was very broad as I didn't quite know what I wanted. I was sure about the background, the style of the writing and the wording but not about the graphic. The seller specified unlimited revisions so I knew I could change things as needed.
The seller got back to me with a design in hours. I liked the writing but wanted it re-sized a little. I didn't want the graphic though, it was a nice graphic but not what I wanted. I had a think about the graphic and went back to the seller with some more specific ideas. Within a few hours the seller came back with a revised design. I liked the writing but wanted a further change to the graphic. A few more hours and the seller came back with what was to be the final design as I was happy with it by then. The final design came back in high resolution graphics in two formats.
In all there were only three versions of it before I was happy with the design, the whole thing took less than two days and cost $5. The seller was very amenable and efficient. I gave the seller a good review.
Want to give Fiverr a go? Click here – Fiverr!
Fiverr – Review