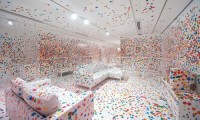 Resizing The Image Canvas
Sometimes an image is just the wrong shape. There are two easy ways to deal with this, one is to crop the image and the other is to increase or change the canvas size.
Increasing or changing the canvas size is straightforward enough on images that have a uniform background but images with a variable background are not so easy. I will show you how to deal with filling in the new canvas area where the background is simple and some ideas on how to deal with more complex and variable backgrounds.
The video below explains how to resize an images canvas and work with the new canvas areas. What you will learn is listed below the video. READ MORE
Continue reading »