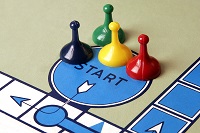 Drop Down The Get Started Menu
Correct at time of writing – 14th May 2014]
This menu has 5 items on it. You can access Module 1 but for the rest you have to upgrade and become an SFM member. Module 1 has quite a lot in it and so do all the subsequent modules so I will cover each module with one or more posts.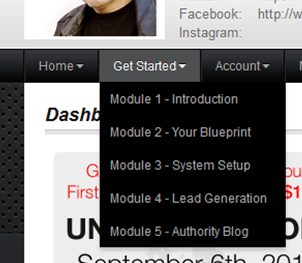 Here's the menu items in module 1: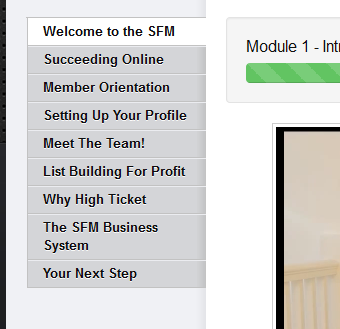 Welcome to the SFM
There are 2 videos and an overview on this page.
The main messages from the first 9 minute video are "learn while you earn", "you don't need to make the same mistakes everyone else does", "keep it simple", "stay focused", "get your mind in the right place" and "we have put together a system that will get results if you follow it".
The text gives a summary overview of what the SFM is about.
The 2nd video is 15 minutes of excerpts from a Digital Experts Academy Platinum event and testimonials from some of the people at the event, both new people and those that have been with the SFM for several years. This is a training event that takes place over 3 days with seminars, group activities, evening socialising. This is where you can learn new techniques, what's current and other related things. These interactive events inform, motivate and allow you to talk with other people doing the same thing.
Succeeding Online
A well known in the internet marketing world 38 minute video of when Tony Robbins met with two online marketing friends, Frank Kern and John Reese. They talk about their successes and they way the approached them.
Member Orientation
A 2 minute video telling you about a webinar called "How To Increase Your Current Cash Flow By Leveraging The SFM Digital Lifestyle Business System" that you can register for in this module.
Setting Up Your Profile
Here you simply set-up your basic SFM profile, name address and contact details.
Meet The Team
Photo's and profiles of 16 of the people that keep the SFM wheels turning starting with Stuart Ross, just like this …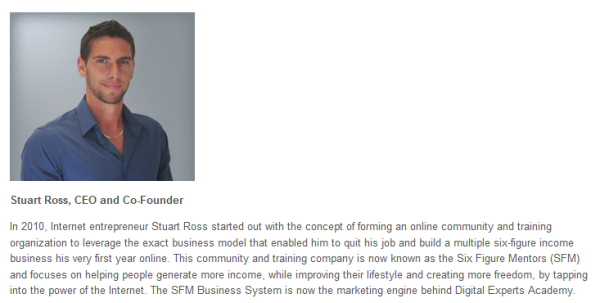 List Building For Profit
A 12 minute video and downloadable report about list building. You may have already seen this as this is one of the core techniques for marketing online in general and Stuart Ross often refers to it.
Why High Ticket
2 videos totalling 20 minutes and a text explanation with some figures of why high ticket sales are important. I can vouch for this personally, it's really hard to make money where profit margins are small. It's obvious I know but let me just quote some figures:
To make $10,000 on a product that has a $2 profit margin you have to sell 5,000 items.
To make $10,000 on a product that has a $1,000 profit margin you have to sell 10 items. It normally takes much less effort to sell 10 items and 4,990 less transactions. Return on Investment is likely to be much greater as you don't have to market to anything like the number of people you would to sell 5,000 items.
If you have a product range that averages out at $2,000 actual profit you need to sell 500 items to be a millionaire. If the actual profit is small, say $5 then you need to sale 200,000 … that's hard!
Apart from that there is decent residual/ongoing income from SFM subscriptions but more of that another time.
The SFM Business System
A 28 minute video and explanation about how internet marketing in general works, why it's a better and easier business model than most other businesses and how the SFM commission plan works. You can market anything you want on the internet but the SFM sales commission plan is a high ticket model and one that you can easily get started on while you are learning the ropes. If you are already an experienced marketer then this is a great high ticket commissions product for you to take on.
Selling is what we all do in some way or another, whether it's selling a product, a service or selling yourself at a job interview. Whilst marketing requires some positive spin and of extolling the virtues of the product or service that is being sold I think it's important to be honest and keep your integrity whilst doing this. This is one of the things that the SFM and it members put a high value on. People that do use unscrupulous dishonest methods are not welcome in the SFM after all we are all in it together in the end!
Your Next Step
Is a call to action where you can upgrade and/or schedule a call with a business coach to find out more, get your questions answered if you think the SFM is or might be right for you.
In the next post on the SFM back office I will take a look at Module 2 "Your Blueprint" this where you take stock and start putting together a strategy.
If you like the sound of the SFM from what I have so far said about it above and you want to learn more about then you can sign up here and get started now:
[sc:SubSFM] [sc:MySig]