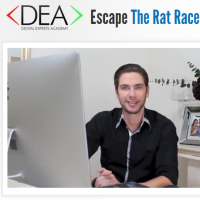 Six Figure Mentors – Lead Capture Pages 12
[Correct at time of writing – 15th March 2014]
If you are going to learn about Digital/Internet Marketing and/or earn money from promoting a training program then it's a good idea to take a look and see what you are going to get.
This is the 12th Lead Capture Page* that I want to show you … "Join The New Rich V2".
This is my favourite at the moment. It's really simple and clean, the HD video is very clean looking and well filmed. The displayed message is money and life style which is the bottom line for many people. The video follows this up, adds that it's not a get rich scheme and you will have to do some work. The video is aimed at pre-qualifying interest. Most quick rich opportunity seekers don't like to invest much in their online businesses in terms of time or money and probably won't be interested in the Six Figure Mentors / Digital Experts Academy, they might have a look but that's as far as it usually goes. By putting unlikely candidates off, those that do sign up are more likely to have a serious interest in finding out more and joining up if they like what they see.
Click the image below or click HERE to see the real lead capture page.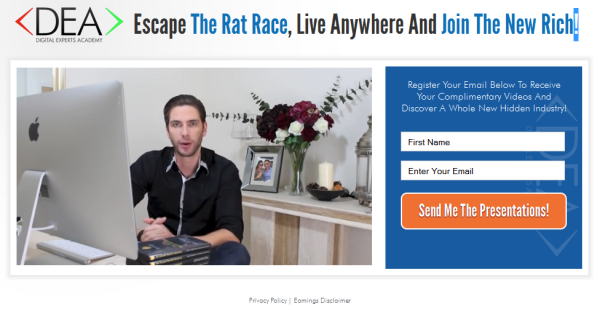 *Lead Capture Pages (AKA Squeeze Pages) are the web pages used to capture peoples emails and sometimes other details so that they can be added to an email list where they will stay until a person unsubscribes (which they can do at anytime with the SFM). Many businesses and organisations use a Lead Capture of some sort even if it's just a little sign up box on their web site or a tick box to receive emails when you buy something or sign up for a service.
You will have probably have seen similar pages before. These are good quality Lead Capture Pages that I hope reflect the the effort that we all put into the SFM.
If you would like to subscribe to the SFM then you can put your email address in the list below or click HERE to see the real page as above.
[sc:SubSFM ]
See the next Lead Capture Page post – NEXT.
[sc:MySig ]