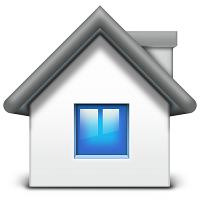 Drop Down The Home Menu Item
[Correct at time of writing – 5th February 2014]
This is the second in a series of posts about the Six Figure Mentors (SFM) back office and what you would experience if you became a member.
After having a look around the Dashboard the next logical area to look at is the drop down menu Item "Home". As you can see there are 4 items on it at the moment. The first item just takes you back to the Dashboard which we have already covered so let's look at the next 3.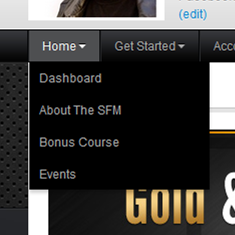 About The SFM
This is a very brief overview of the SFM by way of a little history and in effect, a short mission statement.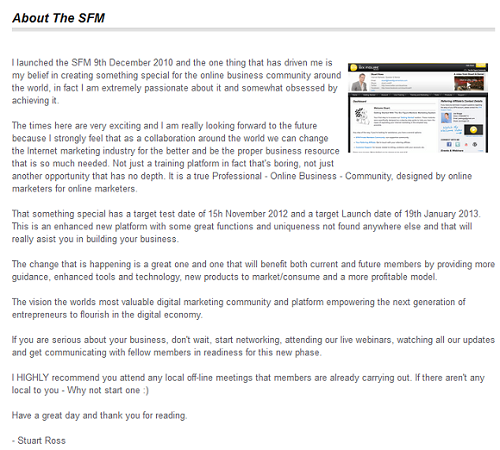 Bonus Course
This is the most exciting and comprehensive section under this menu. As you can see below there are 13 sub-sections to go through.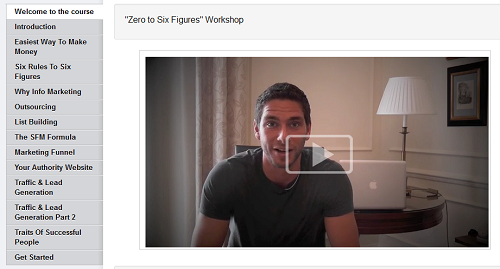 Most of these sections come with a video by Stuart Ross and a testimonial from a Six Figure Mentors member. If you like what you see during this course you can upgrade to a full membership at any stage.
Here's what you get:
Welcome to the course – A short welcome from Stuart Ross.
Introduction – A longer video from Stuart Ross outlining what you will learn in the rest of this course.
Easiest Way To Make Money – Stuart talks about the methods he has found that are the most effective. It's not that it's so easy to make money from the internet but some ways are easier than others.
Six Rules To Six Figures – These are Stuart Ross's 6 rules to successful marketing and are the main ingredients you need.
Why Info Marketing – Online training courses, how to's even some software are the easiest and most profitable products. Physical products require shipping costs, returns and usually competitive profit margins whereas downloadable products are not only easy to deliver but the buyer can start using them straight away.
Outsourcing – Stuart Ross talks about outsourcing, what sort of things to outsource and how you can do it without breaking the bank. Nobody can do everything, it would be too much. Some things some people will be better at and faster at than others so it often saves a lot of time and sometimes money to utilise other peoples skills.
List Building – One of the core principles is to build a list of followers that you can communicate regularly with. Stuart tells you how!
The SFM Formula – Stuart details how you can make money by promoting the SFM if you choose to. He goes on to show how high ticket commissions will get you to where you want to go much faster and more easily than promoting low profit items.
Marketing Funnel – Here you will learn how a marketing funnel works using the SFM product set as an example. People who buy once are very likely to buy again from the same source when they like what they have already purchased.
Your Authority Website – Stuart discusses the 3 web sites and pages that you need to run successful marketing campaigns. We make this easy as the SFM supplies all the tools you need to create these and some are created for you ready to go.
Traffic & Lead Generation – Traffic (visitors to your sites and pages) is the life blood of marketing. Like a shop, if nobody walks past and nobody knows a shop is there then nobody will walk in. Stuart explains the strategies behind getting traffic and some of the methods of getting it.
Traffic & Lead Generation Part 2 – Stuart homes in on one method of getting traffic.
Traits Of Successful People – Three very successful online digital marketers talk about how they approach their marketing.
Get Started – This takes you to the beginning of the main "Get Started" menu item.
If you like what you hear and want to get access to this course then you will need to make a paid application which is unusual in this industry and serves a double purpose. It does actually deter people that aren't serious and people that do pay for it are going to take the trouble to look at and take in the information supplied, after all if you pay for something you are going to want to get value from it.
The application fee is only $29.95 and don't worry you wont risk a single penny as it's 100% refundable within 30 days if you decide this is not for you (or if we determine you're simply not the right person for us) then just let us know and your $29.95 will be refunded immediately.
Events
Some of this information is available in the left side bar that slides in and out. This gives you the details about scheduled events and allows you to register for them. This will give you location, travel and accommodation information for the next event with any likely costs and under the "Future Events" tab the currently scheduled events beyond the current one coming up.
Events could be Momentum Days which are general Six Figure Mentors get together's aimed at informing and motivating. It could be a Gold, Platinum workshop etc. for a Digital Academy Experts product level if you decide at some point to purchase one or it could be for another type of SFM/DEA event.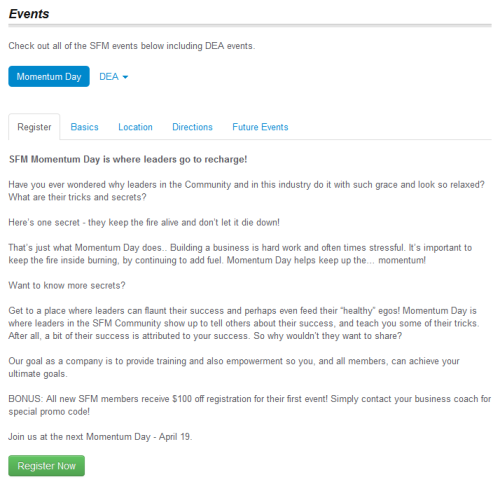 In the next post on the SFM back office I will take a look at the "Getting Started" Drop down menu item.
If you like the sound of the SFM from what I have so far said about it above and you want to learn more about then you can sign up here:
[sc:SubSFM] [sc:MySig]