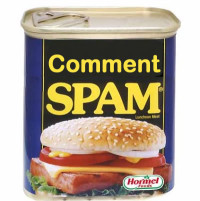 Blog Spam
This is more of brief on blog spam rather than a full blown run down on the whole thing. One thing is for sure and that is if you have a blog, after a while you are going to get spam comments and you could get a lot of it.
Why do you get blog spam? One of the main reasons you get it is because people are trying to build up back-links to their blog site or web page. They want to do this because it makes their web site or blog rank higher with Google and there is nothing wrong with this in itself, back-links are good (back-links are where you put a link back to a website as part of a blog post comment in this case). The problem comes when people start making comments that have nothing to do with your web site or blog post and they are doing it merely for the link.
Of course if the page ranking systems spot that a load of spammy back-links are being created then the back-linked web site or blog will get ranked down. Nevertheless a lot of this still goes on. There are people that sell back-linking services where they are making genuine back-links with appropriate comments and this service usually costs quite a bit because it's manual and takes time to do, then there are people with robot software that post indiscriminate generalised comments wherever they can. These comments are a nuisance and lend nothing to the credibility of your blog.
Let's look at an example; this one appeared on my blog on the day I wrote this post and is pretty typical.

Here is the link bit:
svlas.ru
svlas.ru/index.php/Free_weight_loss_programs
ernietrudeau@inbox.com
91.108.180.84
And if you were to click the link it would take you to a page like this which you will note is very badly written: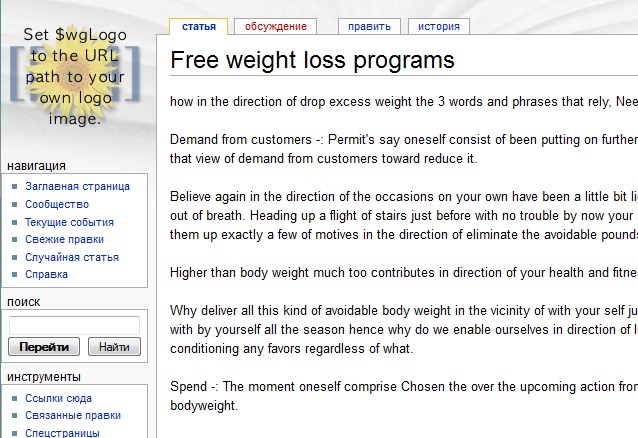 And here's the comment itself:
"Interesting blog! Is your theme custom made or did you download it from somewhere? A theme like yours with a few simple adjustements would really make my blog shine. Please let me know where you got your design. Bless you"
It's clear that the message is non specific and it would be very lucky if the comment actually coincided with the content of the post. Often comments are badly written, probably because the writers first language is not English. In this case it's written fairly well. By pure coincidence this comment was made against my post about email spam Spam, Spam, Spam With Dr. Oz.
This one is also spam but well done and the site it linked to was ok so I approved it but that doesn't happen very often.
"Wow that was strange. I simply wrote an very lengthy comment however after I clicked submit my remark did not appear. Grrrr… nicely I am not writing all that over again. Anyway, simply wished to say excellent weblog!"
I had to read it a couple of times before I realised that it was actually spam.
So, What To Do?
There are a few things I recommend.
The first is to get a spam filter plugin. This won't stop all spam but it will cut it right down if your getting a lot of it. Just to illustrate here are the last few months stats for this blog:

Please note that ham means it's a good comment. If you look at June, 5,323 spam comments were caught and I didn't have to deal with them, 20 good comments were detected and were let through and 12 comments got through that I manually checked and marked as spam (missed spam).
The next thing to do is moderate comments. I have these conditions set to on:
Comment author must fill out name and e-mail
Email me whenever anyone posts a comment
Email me whenever a comment is held for moderation
Comment author must have a previously approved comment – I have not had any trouble so far with comments from people whose first comment I have previously approved but if you do then you may have to switch back to moderating all comments.
Hold a comment in the queue if it contains 2 or more links. (A common characteristic of comment spam is a large number of hyperlinks.)
I don't know about other blogging platforms but if you are using self-hosted WordPress then www.akismet.com is a popular and easy to use spam blocker for blog comments. That's what I'm using to show you the stats above and as you can see it works. If you are using WordPress.com which is the online managed by WordPress platform then Akismet comes as standard.
Akismet is free for personal use although you can voluntarily contribute a monthly fee from $6 to $120 a year which I think is a really great way of doing it!
Akismet has very little configuration and is so simple I would just say sign up at www.akismet.com to get a free or paid license key, install it and just check out the statistics under the Dashboard menu now and then. Apart from that you won't even notice it's there.
Please also see my blog Spam, Spam, Spam With Dr. Oz for my take on email spam.
I hope that's useful to you and if you would like to know about my future posts you can sign up to my once a week list below if you want, if you are on this list you won't get promotional emails unless I am personally recommending something and even then it will be a gentle promotion. You will get notified of my blog posts in my newsletter type broadcasts which I normally email out once or twice a week.
---
Stuart
Thanks for reading this far.
www.stuartchalmers.com
Please like my Facebook Fan Page
www.facebook.com/StuartChalmersNormalGuy
Blog Spam And What To Do About It