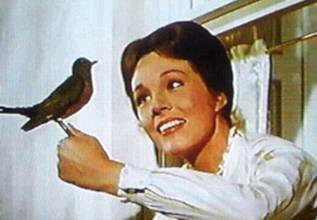 Creating a Twitter feed on your website is easy whether it's on WordPress or a normal website.
Twitter provide an easy to use way to do this and in this WordPress example WordPress provide a very easy way to install it.
There are WordPress plugins for this but really they are not necessary. In my opinion it is better only to install the plugins you really want and/or need on WordPress. Don't get me wrong, I like plugins but too many plugins or some not very good ones can cause problems.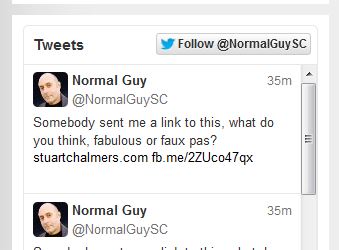 Create Your Twitter Feed
Let's get the code for your Twitter feed. You don't need to write it or understand it, Twitter will sort that out for you, you just need to know how to cut and paste.
Step 1: Go to Twitter and login to your account then click the settings cog and pick "Settings" like this: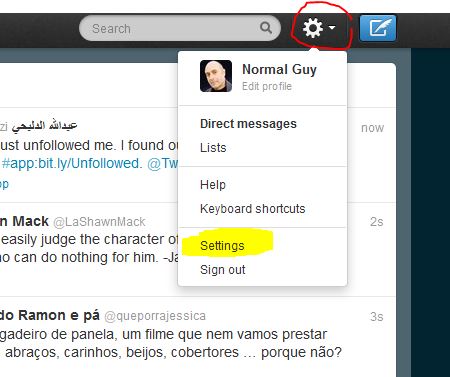 Step 2: Next you will get a screen with a menu like the menu on the left. Pick "Widgets" and when you see the "Widgets" display as on the right side here, click "Create new".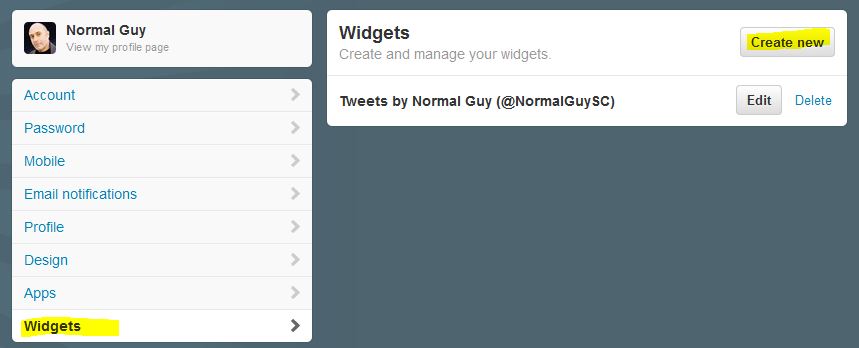 Step 3: Now you should see a screen like the one below. You can create widgets for your timeline, favourites or lists but I will just show how to create a timeline widget in this example as that's what most people will want to do and the principle is the same for all types of widget. You can experiment with the options and see how the changes you make will look as you change them.
The only option I think worth making a point about is the "Opt-out of tailoring Twitter" option. You may want to tick this for now at least. This is a new Twitter feature that may or may not be available to you at the moment. This is to do with Twitter suggesting followers depending on your Twitter activity, see About tailored suggestions for more info on this.
When you are happy with your widget click the "Create widget" button on the bottom left.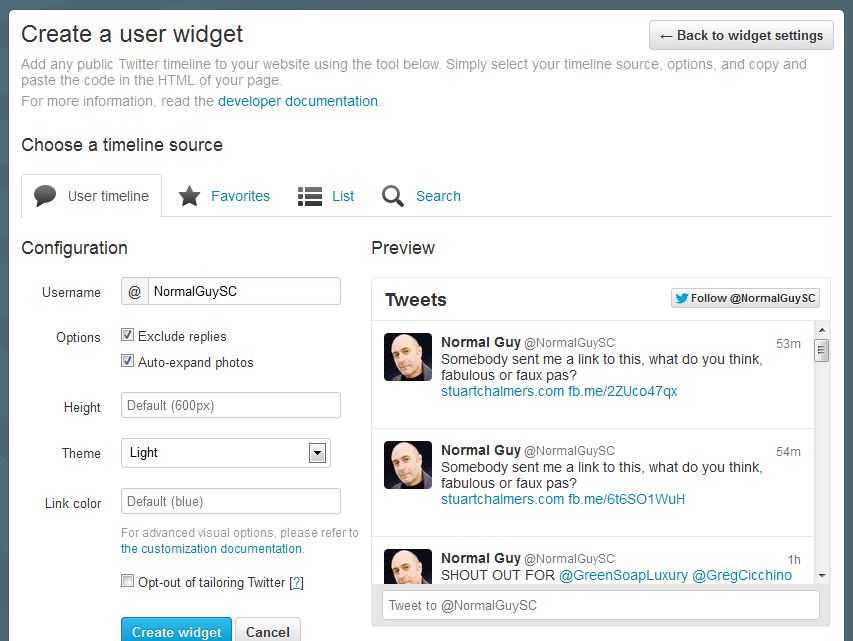 Step 4: Now you should see this screen. The code for your widget should be highlighted on the bottom right, if it's not then highlight it and copy it. You can store it somewhere for now if you want to. Next we will be going to your WordPress site to install it.
Note that you can save this widget and give it a name so that you can come back to it to either change it or use it elsewhere.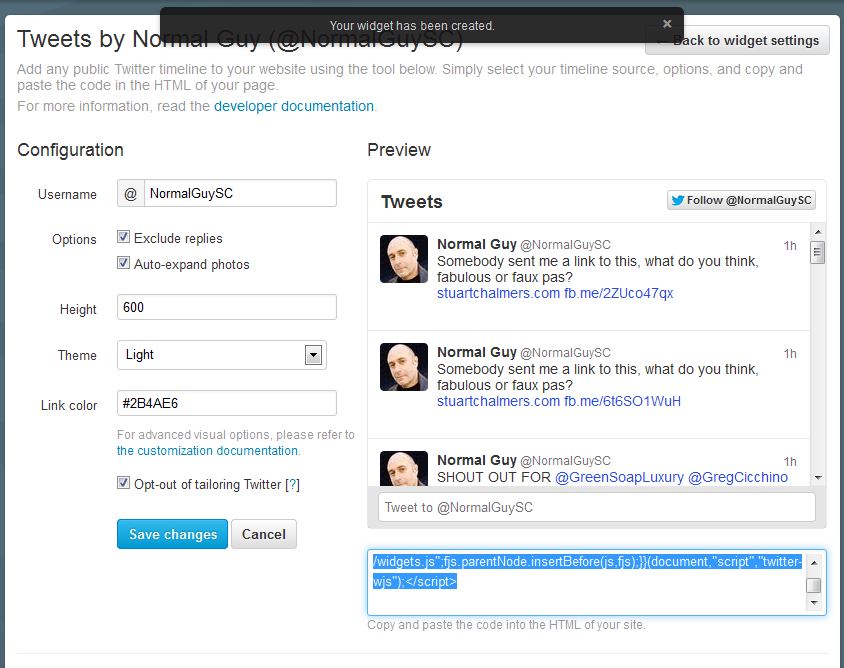 Installing The Twitter Feed In WordPress
I'm going to show you how to install the Twitter feed Widget into your side bar but it can go anywhere that accommodates HTML code. If you have a regular website you can copy it wherever you want or get your web site maintainer to install it for you.
Step 5: Go to your WordPress site and login to the dashboard. Select "Appearance" and "Widgets" so that you see a screen like the one below. Click the "Text" widget in the "Available Widget" section and drag it onto the sidebar.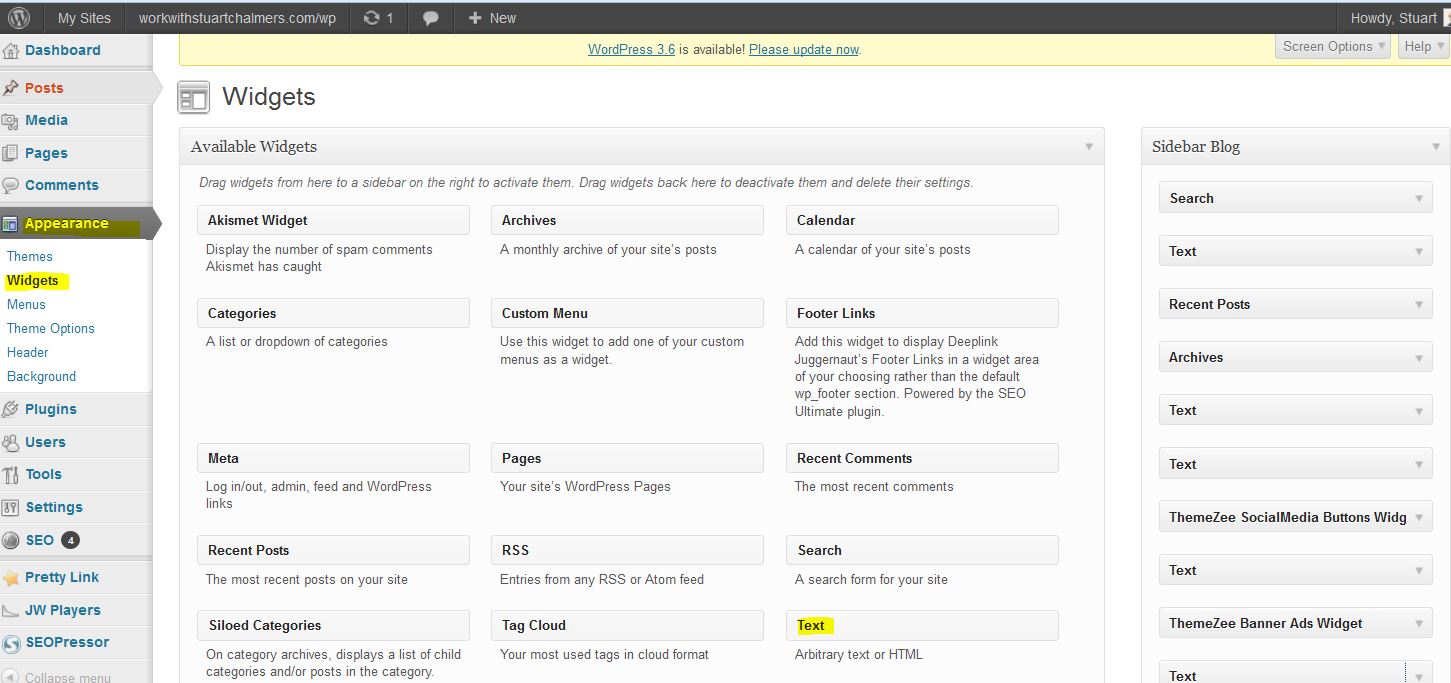 Step 6: You should next see an open widget like the one below, if it's not open then just click the down arrow on that widget. Now paste the code you got from Twitter into the the main area of the widget as below, save it. Check that it's working by visiting your WordPress site and if all's well you are done 🙂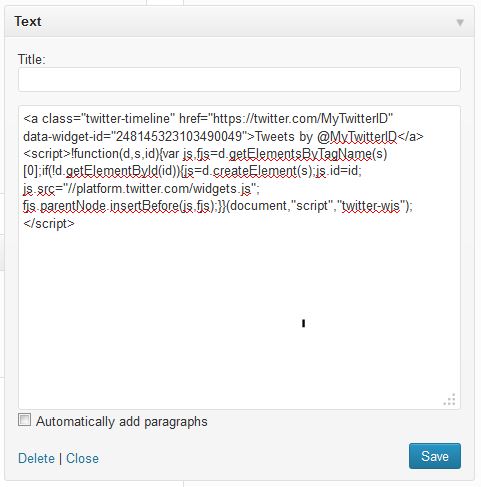 I hope that's useful! Let me know if I could improve this or you don't understand something.
[sc:MySig]
How To Add A Twitter Feed To Your WordPress Web Site