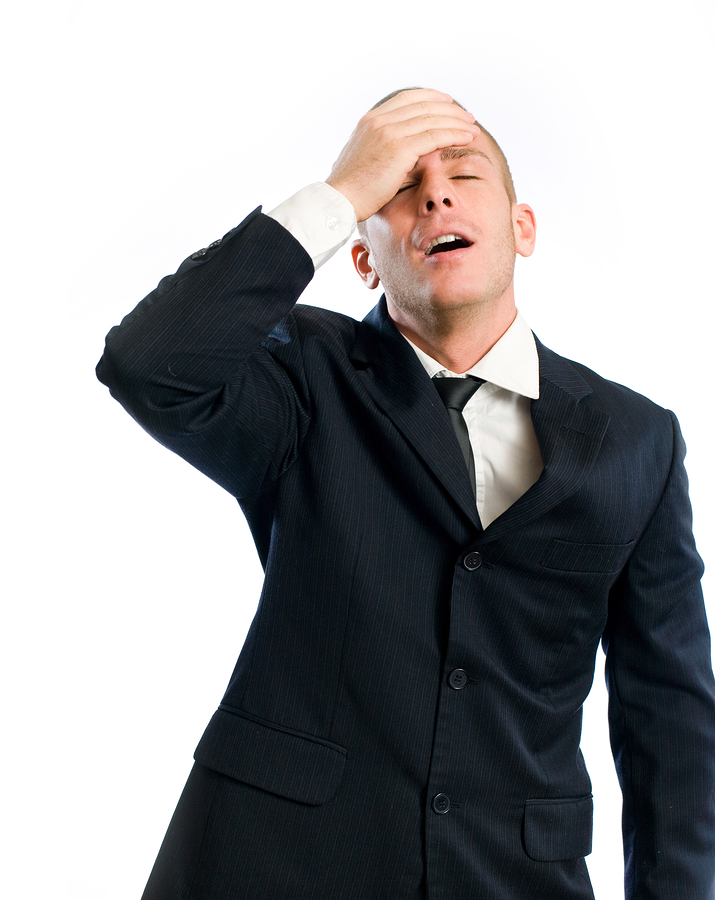 Email is great isn't it! You can send stuff to the other side of the world in seconds. There are couple of things you have to watch out for though. One of them is that you have to be careful that what you say is not misinterpreted and this is the same for any written word and the other …
The Problem
… the other problem is making sure that you send what you mean to send. Here's a few examples of things that have happened to me and I bet some of them have happened to you too!
Oh My God, I have just sent that email to the wrong email address .. I'm in trouble now!
Oops, I have just accidentally sent a blank email.
I have just realised that I missed a bit out, I'll have to send another email.
Hmmm, I think I should have BCC'd the email I just sent!
The problem is that when you hit the send button your email often goes out straight away and there's no time to re-edit or delete it.
The Solution – Email Delay
On some email clients there is a simple solution and that's to simply delay the actual sending of your email so that you can either retrieve it from your outbox or reverse the send so that it goes back into draft where you can edit or delete it.
I use Microsoft Outlook 2010 where I control all my email from various sources including Gmail and Hotmail. I'll show you how to configure a rule in MS Outlook to create an email delay and a little function that you can use to do the same sort of thing in Gmail.
Setting Up An Email Delay For Microsoft Outlook 2010
I think this should work for any version of Microsoft Outlook because it's simply a rule. I'm using Outlook 2010 so things may be a little different if you are using a different version. By the way, if you edit an email in the Outlook Outbox it will not get sent out until you click the send button again.
There are 2 small downsides to doing this, one which is easily overcome. If you put a scheduled time on an individual email then this will be overridden by the main rule that you put in place as below. And of course, no emails will go out immediately so if you are in a rush to send an email then you will have to either disable the rule temporarily or create an exception you can use for urgent emails. I created a category called "Send now" and an exception for it so that if you assign that to an email it will go out straight away, bypassing the delayed email delivery, I'll show you how to do this further down.
Let's create the rule!
Step 1: First go to your "Home" Ribbon and click the down arrow on rules: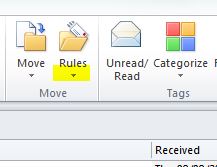 Step 2: A rule like "2 minute send delay" below is what we want to end up with and to create one like it click "New Rule":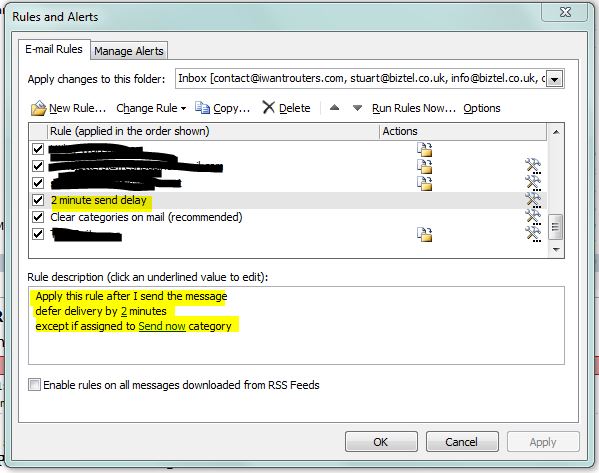 Step 3: You will then get this dialogue. Now click to highlight "Apply rule on message I send" in the "Start from a blank rule" section and click "Next":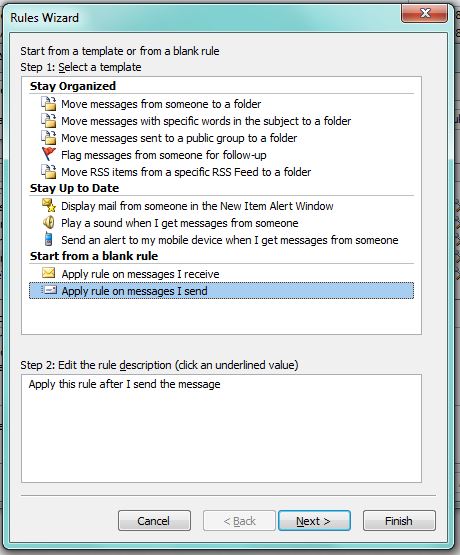 Step 4: Then click "Next" again on this screen unless you want to apply any rules on here: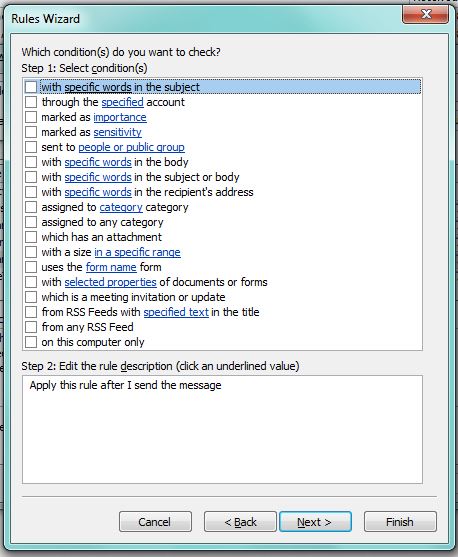 Step 5: Click yes to this question:

Step 6: Now tick the box against the "defer delivery" option as below. Then click "a number of" in step 2 as below: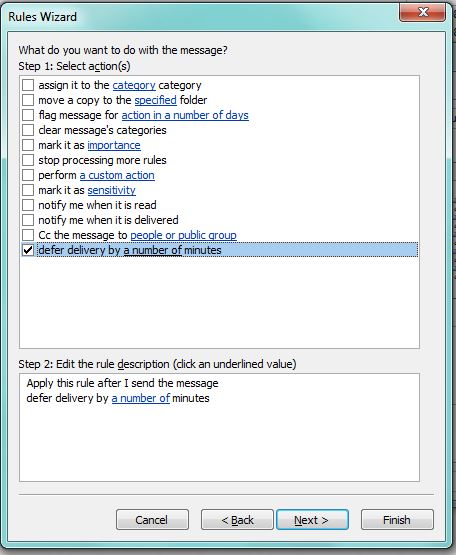 Step 7: Now enter the number of minutes to email delay by and click "OK". 1 minute is the least amount of time:
Step 8: Now you should see the number of minutes filled in on step 2 section below. Click "Next":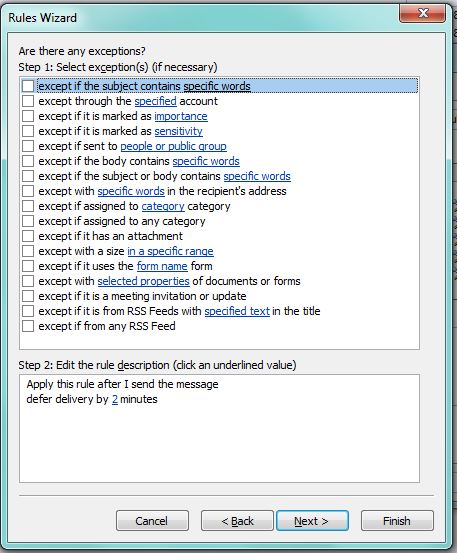 Step 9: Now give your new rule a suitable name, make sure it's turned on, optionally tick the "Create this rule on all accounts" option and click "Finish". All done!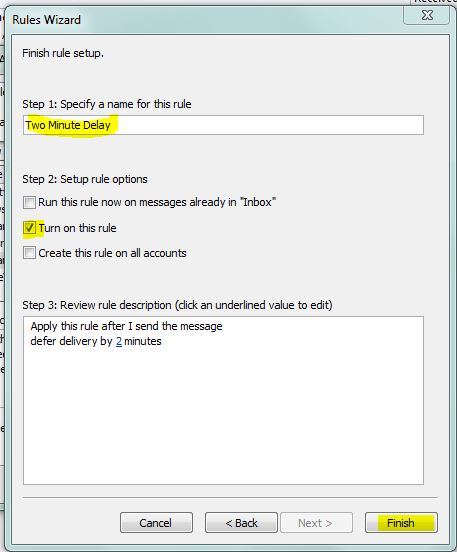 Creating An Exception For Emails To Go Out Immediately
If you have to send out an email fast then you can modify the delay rule to let specific emails go out straight away. There are several ways of doing this for example, let all emails marked as urgent go out immediately or as I will show below, let emails with a "Send now" category go out straight away.
Step 8.1: Back on the exception screen in "Step 8" tick the "except if assigned to category category" and click the "category" in the step 2 section "Edit the rule description".
You can pick other exceptions instead or as well as if you want, so long as it makes sense to do so.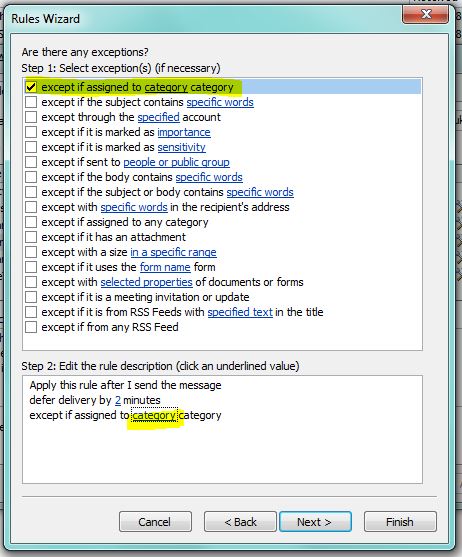 Step 8.2: Now you will see the category selection from which you can either pick an existing category or as I will show you now, create a new one. Click new to do this.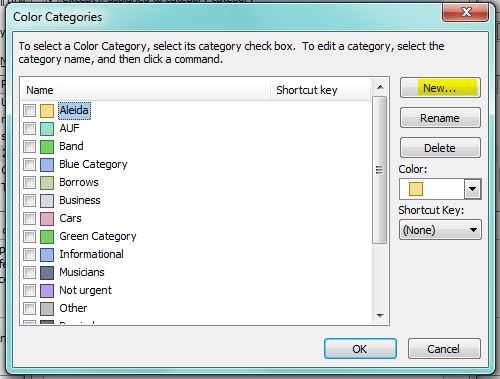 Step 8.3: Give your new category a name, select the colour and then press ok.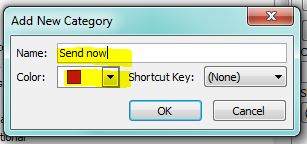 Step 8.4: Now make sure your new category is ticked and click OK.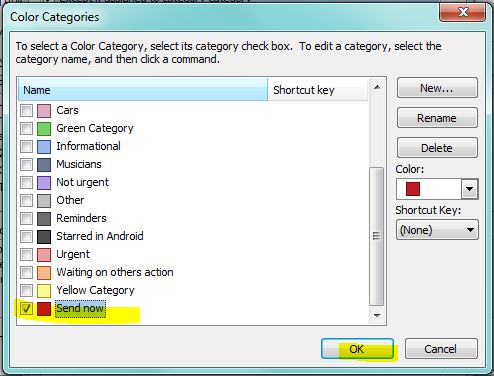 Step 8.5: Now you can see the new exception included in the rule so click OK.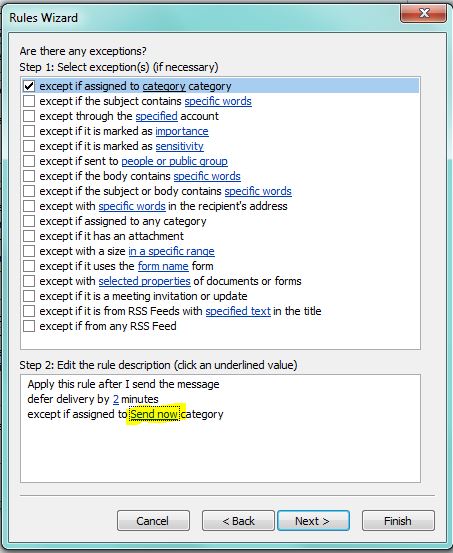 Step 8.6: So here is how you would use it. Create a new email and in the message section you should see in the tags area a little arrow, I have highlighted it in yellow, click that.

Step 8.7: You will see this dialogue where you can pick the category for this email as highlighted below. Click "Categories".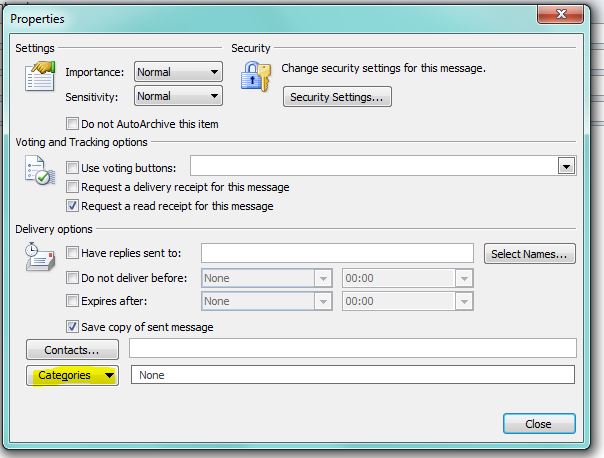 Step 8.8: Pick the "Send now" category or whatever you defined for this rule.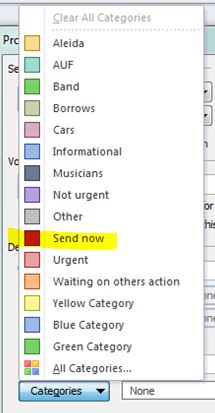 Step 8.9: You should see this next or something similar. Now click "Close" and send you email. As long as your email client is set to look for new emails to send whenever you click "Send" this one will ignore the 2 minute email delay and go out straight away.

Setting Up An Email Delay For Gmail
You can do the same for Gmail. It's not as neat as the Outlook solution but it still gives you up to 30 seconds of email delay.
Step 1: Login to your Gmail account and click the settings cog on the top right hand side: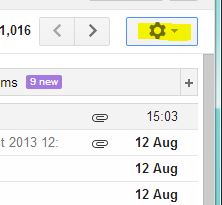 Step 2: Choose "Settings" again as below: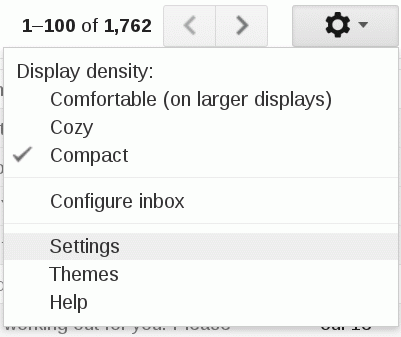 Step 3: Now choose the "Labs" tab and scroll down until you see "Undo Send" by Yuzo F and Enable it: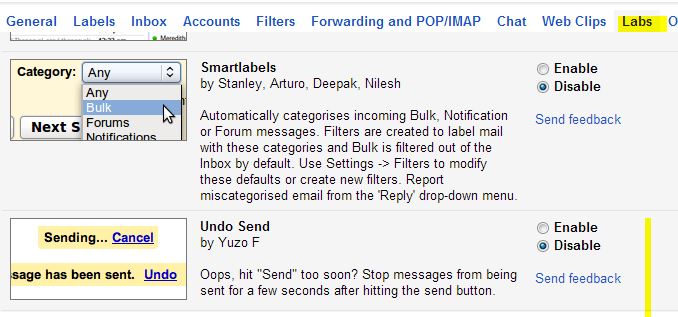 Step 4: Now go to the "General" tab, look for the "Undo Send" section and set from 5 to 30 seconds delay:

The next time you send an email you will see the following at the top of your screen like this. You have however many seconds you set the delay for to "Undo" this email which will bring it back to draft mode or the email to the bin where you can edit or delete it as necessary.

All done. I hope that was useful and you now know how to use email delay to make emailing safer for you!
[sc:MySig]
Dang, I Hit The Send Button Too Soon!