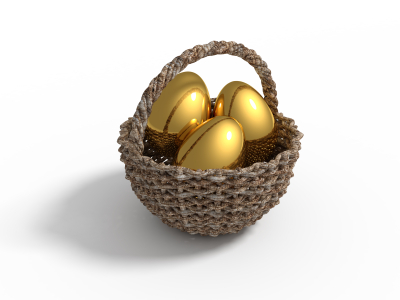 The Big Deal About Multiple Streams
If you quit or lose your job then for most people that's it until they get another job. As you might know that alone is enough reason to have multiple streams of income. Even if you have your own business you never know how it's going to go, maybe there will be low spots or the product or service you offer stops selling. If you have at least 2 income streams that are working then you have some insurance especially if the income from either is enough to keep you going. The thing is not to have all your eggs in one basket!
The thing that prompted me to write this quick post was this article here My Song Got Played On Pandora 1 Million Times and All I Got Was $16.89, Less Than What I Make From a Single T-Shirt Sale!. I thought "Wow 1 million plays and for next to nothing I hope this guy has other streams of income". Also a statement of sorts on the state of the music business.
The combinations are endless. You might run some online businesses, work a part time job, have a hobby that provides some income, own some properties, invest some money. It doesn't really matter so much what the streams are as long as you can manage them without spending all of your time doing it and that at least two of them provide profitable multiple streams. Of course you don't want any that are liabilities, not in the long term anyway. You have to put some money in at the beginning to get some money out sometimes.
Online Multiple Streams
The great thing about online businesses, especially affiliate based ones is that most of them are on a commission basis and often those commissions are pretty good! There is usually a minimal outlay and it's fast to get going as most of the suppliers of the products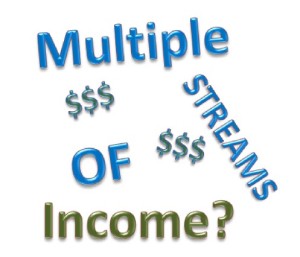 you promote provide a lot of the promotional material. The other great thing is it's scalable. The competition is big but the cake is big as well and it's a growing market. Whatever you choose for your multiple streams of income it's important to have them.
I'm in the Six Figure Mentors which is the Rolls Royce of internet training programs and I'm also part of Pure Leverage. Both systems have their merits and both are income generating in themselves. You are more than welcome to join me in either of them if you want to. Both systems have integrity which in these days with so many scams, is a valuable asset.
My contact details are below and I'm more  than happy to answer questions about these two programs or anything else in this post or my other posts come to that, just drop me a line.
[sc:MySig]