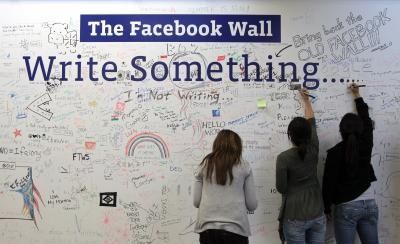 Post Planner Review
[2nd December 2013] Please note that due to new Facebook limitations Post Planner is no longer able to post to Facebook Groups anymore or for the foreseeable future. This is great shame and removes some very powerful functionality from Post Planner. Scheduling posts to your own timeline and pages still works as do the other non group related features of Post Planner.
I mean it's tedious and it takes ages posting to 25, 50 or even more Facebook groups, then you have to do it again the next day, day after day, week after week …
What if you could post to 25, 50 or even 100's groups and/or pages in one go … ONCE … VERY, VERY easily and then again every day or every 5, 10, 20 days etc. for months or years without doing anything else?
This is what Post Planner promises to do for you and it does do.
I have been using it for quite a while now. It may not be perfect but it's an excellent tool that once you have started using you would not consider giving up. Either way I'm going to cover the good and the not so good, fortunately the good far out weighs the not so good.
In fact whilst I have been writing this I have looked at some aspects that I hadn't got round to before and spent more time discovering more about the things I do use and I think I'll give Post Planner a gold star with an "A+" and a "Your Are Awesome" sticker. [06/12/13 – Unfortunately, since posting to groups was removed I have to say it's not really quite as awesome as it was] There are a few niggles but they are just nothing compared to all the things you can do with it.
You can try out Post Planner for FREE
Probably the best Facebook App you'll ever get … or didn't get!
First A Warning
Post Planner is so powerful that I have to issue a warning not to go over the top with this awesome Facebook App. If you overdo it you could get your wrist slapped by Facebook or even suspended. Just be sensible with it.  I post quite a bit and have never had any problems with Facebook in respect of Post Planner.
What's the benefit?
The main thing that Post Planner does is to let you post to one or more Facebook pages and/or groups at the click of a button. It lets you schedule and queue posts for the future and stagger the time of each posting. By this I mean you can schedule a post to be posted from any future date and time once or repeatedly every so many days. If you post to say 10 pages you can stagger the posting by say every 10 minutes and every 10 minutes a post will be made to each page in your list. Even after you have planned your postings you can still reschedule or delete individual scheduled posts if you want to.
Post Planner is very simple to use and easy to pick up and I must admit that I like it a lot. It's one of the few tools where I think the subscription is worth every penny. It saves so much time and multiplies your Facebook activities so much that I have to say be a little careful with it and don't get too carried away.
There are other really useful things that it gives you such as ideas for content which are easy to post, statistics, viral trends and the ability to queue posts. Last but certainly not least the support you get, should you need it, has been excellent and friendly in my experience.
Lets have a look at some of the things you can do with it. I have a Guru Account so can do nearly everything that Post Planner can do.
Have a quick look at this 5 minute video that shows you how it works [06/12/13 – please note that you can no longer post to groups]:
Lists
One of the most powerful features of Post Planner is the ability to create lists, something not possible in Facebook. You can create lists of one or more pages. You could even create a list of all your pages. By choosing one or more lists to post to you can post to many destinations in a few seconds.
You will see in many examples below a drop down in the posting box from which you can select pages or lists.
You can create lists from the posting box or from the settings page where you have more control over creating, deleting and amending lists. Please see further down for more information.
If you used nothing else in Post Planner this one benefit alone makes it worth having.
What Can You Post
A status comment
You can make a simple status post as follows. Note that I am going to post to 2 pages and one group and if I click the "Post Now" button it will simply post to those 3 destinations in one go.

A link with a comment
You can post a link with a comment as follows. Note that I am going to post to 2 pages and many groups. You simply paste in or type your link, click the "Attach" button and Post Planner brings up the title, description and the ability to choose which picture associated with the blog that you want to show in the post.
Note the publish as photo button. If you use this you get the photo that you picked with a link to the post in the comment. You can see the two types of post below.
I have clicked the time button and you can see the repeat and stagger options below.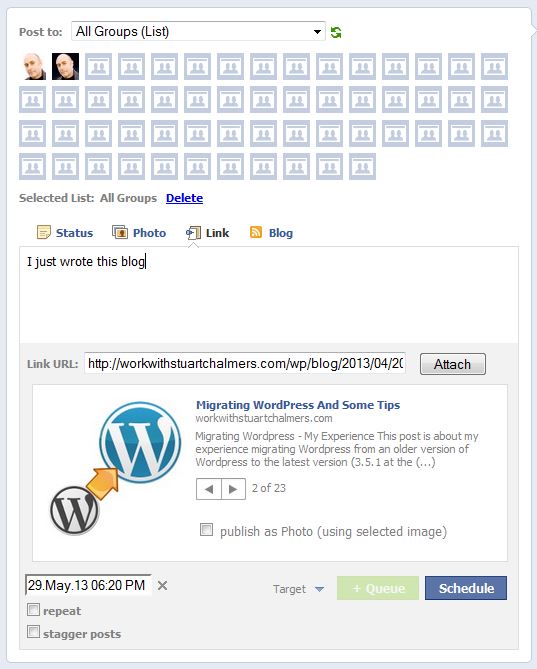 Posts without and with the "publish as photo" option ticked.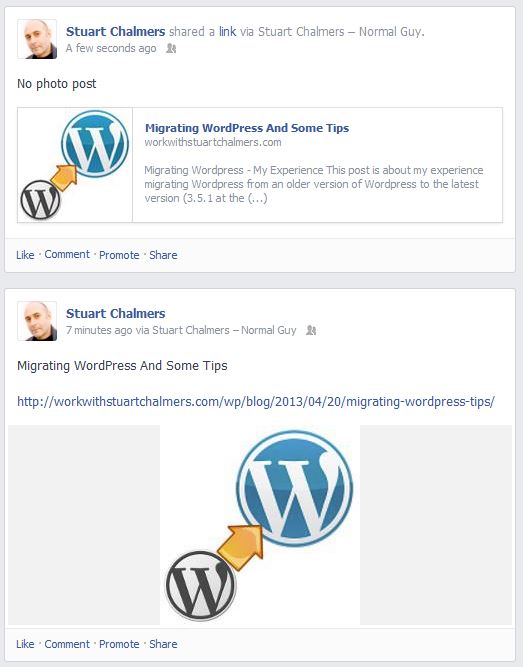 A photo with a comment
You can make post a picture with a comment as follows. Note that I am going to post to 2 pages but no groups. As I understand it Facebook will not allow applications like Post Planner to post photos to groups which is strange as they allow links happily enough and links have images attached to them!

In this example I have clicked the little time icon at the bottom left of the posting box and the "Post Now" button is now the "schedule" button as I can pick a future time and date to make the post.

An RSS feed
This is quite neat. There are two ways you can use RSS feeds with Post Planner. You can assign an RSS feed to one or more Facebook pages or groups and every time a new post is published it will get sent to those pages. This is powerful but of course you don't have any control over when the posts will appear or exactly how they will get posted unless it's your own RSS blog feeds.
The second, and in my opinion, better way of using them I will describe a little later on in this article.
Finding your RSS feed can be a little frustrating as they are not always obvious but with WordPress it's usually www.mydomain.com/feed.
Here's how you do it, pick the "Blog" option and paste or type in your feed link.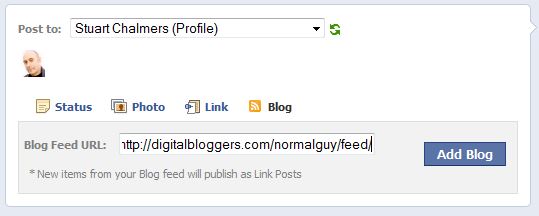 And here's where I have added two of mine.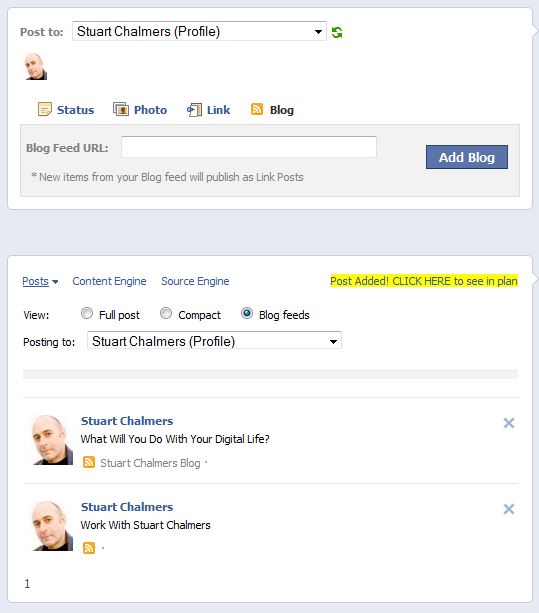 Here below are two examples of a post using Post Planner, the first is where I manually posted a link and the second is the auto post version from the RSS feed. You can see that the image is not present so it's not quite as good. Having said that it's still an awesome feature if you want to post regularly and not have to manually post.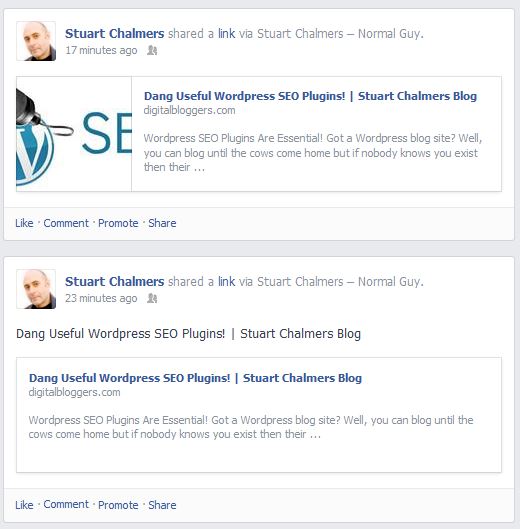 Making A Simple Post
The simplest post would be a status to one page I guess and you don't need Post Planner for that. But, even with a simple status post, posting to 10 different pages is made a lot easier with Post Planner.
Schedule Posts On Facebook Pages
A scheduled post to a number of pages say every 5 days for the next 6 months is really easy with Post Planner. Set it and forget it, well more or less, you might have to pick up on the odd failed post. You can stagger the postings so that it posts to each page or group every 15 minutes for example which will keep your post spread out so that it won't look like your just blasting them out.
Here's the warning again though, you can end up building the number of posts up so that there are many occurring each day. For this reason you may not want to schedule the same posts too often or for too long. Let them expire after a reasonable time. You don't want them to get out of date either and you probably don't want Facebook to lock you out for over doing it either so go a little careful here as Post Planner is very powerful and it's easy to get carried away.
Queuing A Post
I almost forgot about this feature as I haven't been using it but actually it's quite powerful. Instead of scheduling a post you can queue it according to your own predefined schedules. These can be set up for all pages, individual pages. This gives you more control and more granularity. See below for more information on setting them up.
Content
You might have your own content to post and you might have lots of it but even if you have you can make it very accessible to post and you can find other interesting content from many sources very easily using the tools that Post Planner provides.
All the clever optional stuff lives on the right hand column as follows: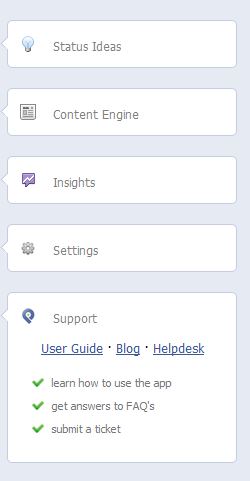 Status
These are ideas that you can use for status posts. All you have to do is click a status idea and it will get transferred to the posting box like this:

If you click the drop down you get different types of statuses with templates to insert your product, branding etc. like this: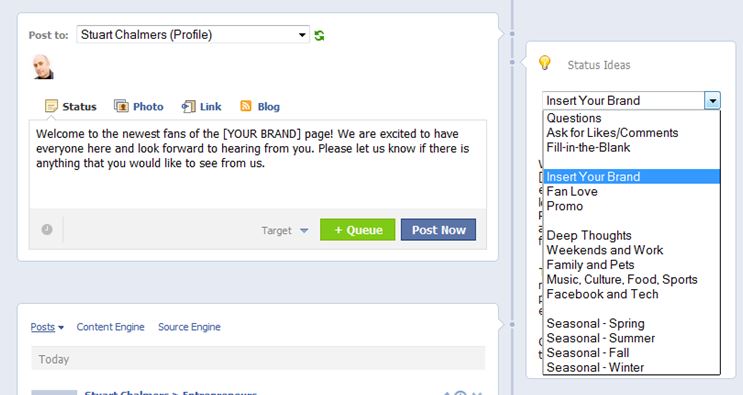 Content
The content engine has lots of options and I'm not going to cover it in great depth, you can discover this yourself should you decide to get Post Planner.
The content engine lets you choose from other peoples blog posts, article content or your own. You can choose your own blogs RSS feeds, Twitter or Facebook. You can add whatever sources you want to or you can choose from a directory of sources from the source engine. You can even choose from trending posts using a keyword search.
I have highlighted below where I have added my own content sources.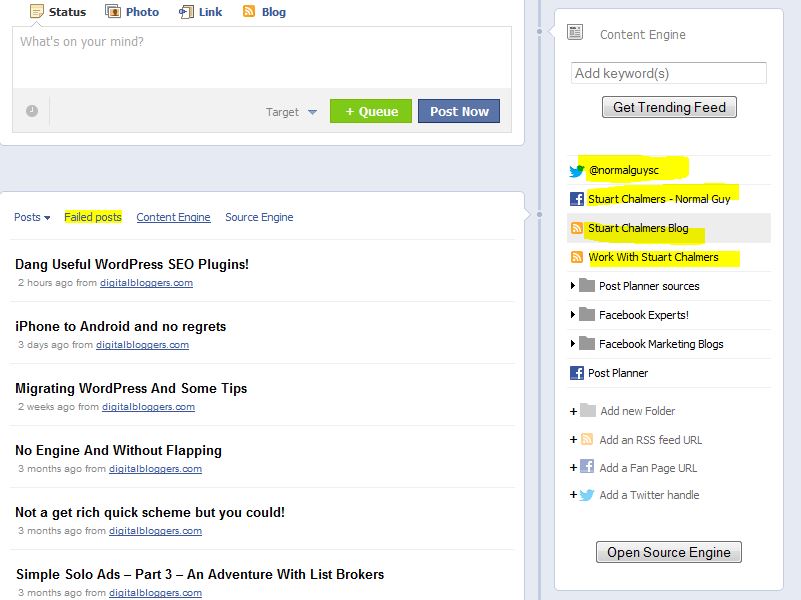 Insights
This is the section where you can see statistics for your pages. This can be a bit scary as a lot of stuff gets ignored on Facebook. You can filter the type by status, photo, link etc. From here you can see what works and what doesn't.

Settings
In this area you have some really useful features including all the usual settings such as email address, time zone etc.
General
Here you have general settings including the option to clear down some future scheduled posts albeit this feature is a bit course.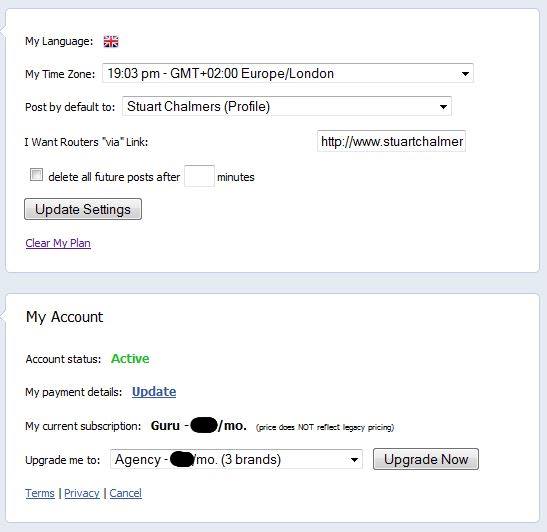 Queue Schedule
This is where you can setup queue schedules for all pages and groups, individual pages or groups. This gives you more control and more granularity. You can set different times for weekdays and weekends. In the example below the default queue schedule for all pages and groups is set and I have created a new one for my fan page below it.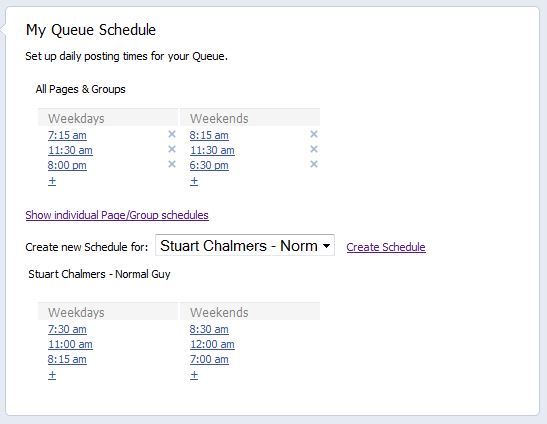 Lists
Here we come to the powerful list feature. I hope this type of dialogue is familiar but if not it's fairly easy to explain. You can create, amend and delete lists from here.
Let's say you create a new list. You simply highlight one or more pages from the right hand side by holding down the Control key and left clicking at the same time and then by clicking the blue left arrow in the middle you can copy those pages over to the left and save the new list.
You can easily move pages in and out of lists in this way. Be a little careful here as I have found that this can be a little bit quirky and you may have to do a few things twice so check your updates etc.
[06/12/13 – Please not that you can no longer use groups with Post Planner]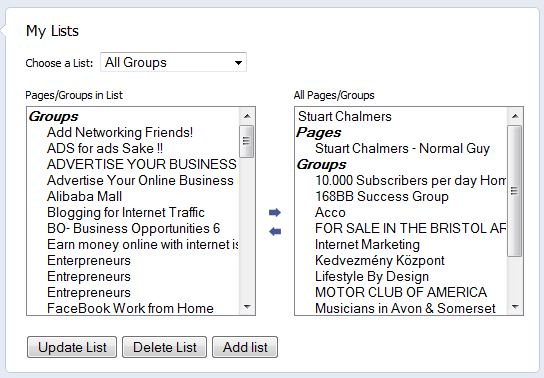 My Team Members
This is where you can control what the members of your Post Planner team can do if you are on a plan that allows team members. For example you could have 4 team members 2 of which can do everything and maybe 2 that can only post to your pages.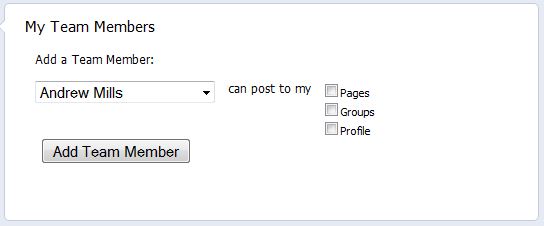 Bulk Load
I will have to admit that I haven't used this feature. This is where you can upload a CSV file (Comma Separated Values) with all your link posts and the days and times that you want them posted. There is an example CSV file that you can download so that you can see what Post Planner is expecting and can conform to the structure of it. This is particularly useful if you have a piece of software that produces the data for this automatically such as a list of products or events that you want to let people know about.
Again I must issue a warning here not to overdo it and break Facebook's rules.

Post Planner User Guide
If you want to see how things work in more detail then have a look at the picture rich User Guide. There's also quite a comprehensive blog and of course there's a Helpdesk where you can check out the knowledge base or raise a ticket, the support is great.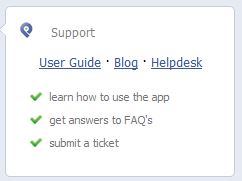 When A Post Fails
Sometimes a post will fail to get posted. When you post to many groups some of them may close down, remove posting permission or any number of things.  Facebook itself behaves in strange ways sometimes and this means some posts will fail. When this happens you can receive an email as below telling you which posts fail and why. You will see failed posts from within Post Planner as below from where you can try and re-post or go to the page where it failed and post manually if necessary.
If a page does become inaccessible to you, you can remove it from any group lists you have.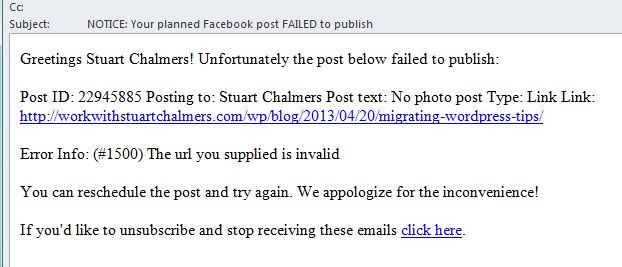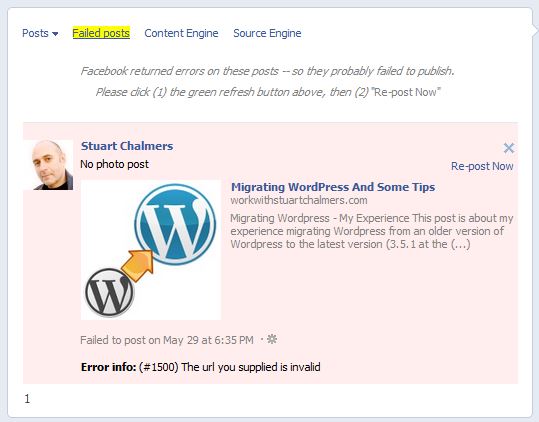 The Not So Good
Fortunately this section is small and is far, far outweighed by all the good things in Post Planner.
At the time of writing you cannot post photos to groups due to a Facebook App limitation. [06/12/13 – You can no longer post to groups using Post Planner.]
Don't overdo it and end up with a Facebook Slap.
Occasionally you may have to refresh Post Planner if it gets a bit stuck but there is a refresh button on both screens.
Sometimes you get errors such as "Error info: (#1500) The url you supplied is invalid" and others. Apart from failed posts due to permissions etc. you can check with support as necessary and they will get back to you promptly.

Affiliate Area
If you are an internet marketer and Post Planner is something you would like to be an affiliate for then their affiliate area is pretty good too. They have all the usual referral reporting, commissions, marketing material etc. Maybe you just want to spread it around amongst your friends, either way it's free to sign up as an affiliate.
The major elements in the affiliate area are available through a menu and a Dashboard:
Dashboard – Here you can see and drill down into:

Commissions
Analytics
Marketing materials
Campaign affiliate links
Featured Marketing / Ads
Conclusion
I first saw this being used in a webinar and thought, that is really powerful, must get it so I did and it's one of those tools I wouldn't want to be without now. There are minor glitches now and then but overall it's a very capable and useful app. If you use Facebook a lot in a serious way such as for business or anything that requires promoting then I can only highly recommend Post Planner. If you make the occasional post on just your timeline then you don't need this.
Get It Now
If you like what you have seen and maybe you think that's for me then just click "Post Planner" anywhere in this post or just click here "Post Planner"!
Thanks for reading this far, your interest is always appreciated.
You can try out Post Planner for FREE

---
Stuart
Thanks for reading this far.
www.stuartchalmers.com
Please like my Facebook Fan Page
www.facebook.com/StuartChalmersNormalGuy
Post Planner Review
Brilliant news:- As of today Sunday 11th August 2013