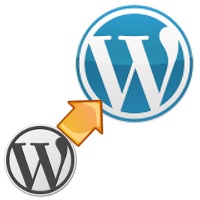 Migrating WordPress – My Experience
This post is about my experience migrating WordPress from an older version of WordPress to the latest version (3.5.1 at the time of writing) and from one server to another.
I hope you will pick up some good pointers from it including how to recover from the infamous "white screen of death" and if you don't know what that is then you are going to find out a little later.
It's not an exhaustive reference for migrating WordPress. In fact there are so many plugins, themes, styles of content, pictures, video's etc that I would have thought it would be quite hard to write a definitive step by step guide.
I found migrating WordPress quite easy but quite a lot of work. As I have mentioned in other posts I have a technical background so I'm quite good at sorting computer related problems out. The only real problem I had was the "white screen of death".
My main blog was and still remains, as I have not cleared it down, in the web space with the Six Figure Mentors known as "Your Marketing System". I am as you may know, a member of the Six Figure Mentors and as an Elite member you get your' very own full blown WordPress blog space with some default plugins and bespoking to make it easy to get going. The advantage of having a blog there is it's all maintained for you and you have good access to technical support. This leaves you to get on with setting it up as you like and just using it.
As I am not worried about the maintenance of it and I wanted full control and independence I decided to get my WordPress going and once I had made up my mind the sooner the better as the more I do to my site and the more content there is the more there is to migrate.
The Main Steps
Here is my list of steps:
Find a web space
Choose a domain

If possible, Moving The Whole Thing Lock Stock and Barrel

Setup WordPress
Choose a theme and adjust as necessary
Maybe at this stage install your initial plugins
Export from old
Import to new – include attachments such as pictures.
Reformat as necessary
Check all your links
Make sure video's and any other objects such as forms are there and working.
Re-point domain names
Find Some Hosted Web Space
This was simple for me. I have different web spaces for different websites but the one that has so far given the best support and value is www.Namecheap.com (my affilliate link BTW). I would like to say that their service has been 100% reliable but it hasn't. It has gone down due to a DDOS attack and has had other glitches but the support has been so fast and they are so polite that I figure this is a good place for me. Most of my issues have been sorted out in minutes and they are very willing. I bought their value package which cost me $47.40 for the year and is enough for me at the moment. Yes, I know there is cheaper out there but excellent support is so vital with this type of service.
Choose a domain
When you setup your hosted web space you will need to choose a domain name for it. I suggest thinking about this carefully as you are going to have to live with it and other people are probably going to see it. You might use it for several sites for example I have more than one WordPress site and I am also running a self hosted tracking system call Prosper202. My main blog URL is www.stuartchalmers.com and my web space is www.workwithstuartchalmers.com so they tie in and can be fairly generic in their use.
Moving The Whole Thing Lock Stock and Barrel
If you are in control of the web space you are moving your WordPress from then it's better to move the whole thing lock stock and barrel. There are two parts to this, moving the WordPress MySQL database and copying the relevant web space area over.
As I haven't done this myself I cannot say exactly what problems you may encounter but it's pretty easy to try and if it doesn't work then no problem, just delete down what you added.
I'm going to assume you know how to login to your "cPanel", what it is and how to access your web space. If you don't then there are plenty of tutorials on how to do this and that explain the elements of your "cPanel". You might find cPanel Tutorial and cPanel User Guide useful.
Copying The WordPress Web Space Area
Assuming that your current web space is standard there should be a directory called "public_html" for example "ftp://mydomain.com/public_html/". Under here will be the name or names of your WordPress sites. In my installation it's under "ftp://mydomain.com/public_html/wp" so I would copy the whole of the "wp" folder to my computer and then into the new web space so that apart from the domain name part it ends up in the same directory structure. This could take a while so maybe let run overnight.
Copying The WordPress Database
This should be fairly straightforward as you can export the contents of your current database and import them into your new database.
I would create a new MySQL database in your new hosting environment with the same database name as the old to keep it simple.
You can go to the "Databases" area of your cPanel, choose "PHPMyAdmin", select your database and then the export tab, it should look something like this: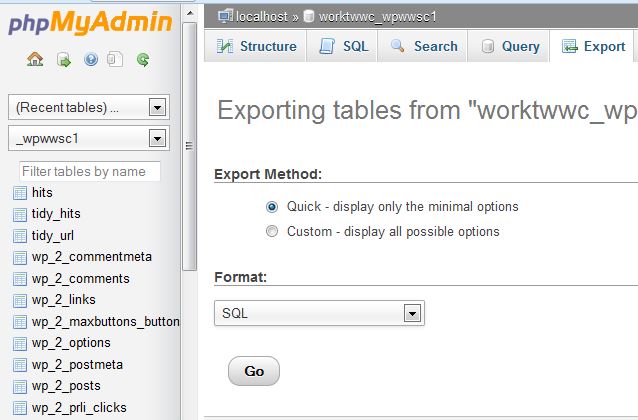 This will export the structure and contents of the database as a series of SQL statements* in a file downloaded to your computer. You can then repeat the process for your new database on your new hosting environment but choose import instead of export.
*SQL statements are a series of commands that manipulate the structure and data of a database.
If this works out then a good part of the rest of this article will not apply.
You can find out more about this aspect at Migrating WordPress.
Setup WordPress
The next thing is to setup your WordPress in your web space. Most web hosting providers will have scripts to do this for you. In this case you just have to fill in a few details, choose whether you want a single or multi site installation and less than a minute later it's all working.
Namecheap have an application called "Softaculous" which can install many different popular applications into your web space, many of them free. This included WordPress which is one of the most popular choices anyway. If your's supplier doesn't have these scripts then you can download it from www.Wordpress.org and follow their 5 minute installation instructions.
Choose A Theme And Adjust As Necessary
This part took me quite a long time to do. I wanted to try and find a theme that I liked, that had a clean look and that was close in format to my existing SFM site. I didn't want to have to reformat too much if I could help it.
I looked through the existing WordPress themes and installed the ones that looked the most likely. I created a test site as I had installed the multiple site version of WordPress (which I recommend you do) and exported my YMS site across to it so I could preview with real pages and posts etc. I'll explain more about exporting and importing a little later.
There were quite a few I liked generally but they often had some aspect that I didn't like for example maybe I didn't like the font. I'm particular about the site being a clean design, easy on the eye and having a clear easy to read font. I hope I have achieved that. Eventually I settled on a theme called ZeeMagazine.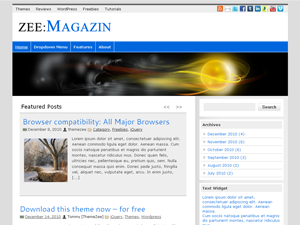 You can get some nice paid for themes at www.woothemes.com if you are not happy with the existing WordPress ones. There are lots of themes out there. If you are good with this sort of thing and have the inclination, it's possible to tweak them at code level or even create your own.
Install Your Initial Plugins
Actually, you can probably do this at any point but this is the earliest point so I'll discuss this here.
The plugins I chose may not be the ones you want or need although I think that some of them are a must have. I will list the ones I have installed so far and say why I installed them.
Installing them is really easy. If you have a single site then you can install them and activate them from there or if you have a multi site then install them from the "Network Admin" site. You can activate them for all sites or go to the relevant site and activate them from there as you may not want or need a plugin to work on every site.
My word of caution about plugins is not to go over the top about them. They can conflict with each other and some of them may have bugs. Having said that I seem have acquired quite a few already.
Most of these can be found straight from the search when adding/installing new plugins or here http://wordpress.org/extend/plugins. I will note the ones that must be downloaded and then installed by uploading the plugin ZIP file.
All of these are free unless otherwise stated.
Must Have Plugins
This is a spam filter for WordPress. There are free and paid versions of it and if you don't at least get the free version you will be plagued by spam as your site gets noticed.
Online Backup for WordPress
It's essential that you regularly backup. Your site could get hacked, it could get corrupted or you might accidentally delete some things you didn't mean to. There are different backup plugins etc but this one is pretty good and allows you to schedule backups.
Ok, you don't have to have this one but it will really help you improve your Search Engine Optimisation and has loads of brilliant and useful features. I wouldn't be without it.
You'll probably need this to import your WordPress file from your old WordPress site. Generally useful as well.
Recommended
My Lead Bar – Must get from vendor web site
This is a Six Figure Mentors free plugin. It's a neat way of prompting people to sign up to whatever you want to promote. Click the link to see a video on how it works.

This will shorten any links you like and track them. The shortened link will use the domain name linked to your web space and whatever keyword you want to put on the end of it for example "http://workwithstuartchalmers.com/wp/gsp/MyLeadBar-LA1" where "http://workwithstuartchalmers.com/wp/gsp" is my domain and "MyLeadBar-LA1" is the keyword. "Lite" is the free version but you can get the paid pro version from here.
Optincrusher – Must get from vendor web site
This is similar to My Lead Bar but pops up from the bottom of your web site and has quite a few options.  You could use this and My Lead Bar in conjunction. Again, see the video. If your reading this on my blog site you should see it below in any case.

This is just a little plugin that puts whatever icon you want in the browser tab if the browser allows it and against the bookmark. Also see www.favicon.co.uk to generate your own Favicon, it's free.
SEOPressor – Must get from vendor web site
This is great even if you have to pay for it. It guides you through optimising your pages and posts. It even does some of the optimisations for you. It tells you if you have too much or too little SEO. It's very configurable and also links to Twitter and Facebook. You could do most of what it does with out it but it's a real time saver so worth the one off cost. This is definitely one of my favourite paid for plugins.
Slightly techy but another real time saver. You may know that WordPress has some default short codes already which allow you to do things faster. An example is the "[embed]" command which you can use to embed a Youtube video without having to insert any HTML. Shortcoder lets you write your own shortcodes for example, all my posts have a signature at the bottom but I don't have to copy and paste it every time I write a post, I enter my own short code "[[sc:MySig]]" and my signature appears in its place. This also means if I want to change it I only have to change it in one place.
This is actually a separate system for generating squeeze pages using a WYSYWIG editor. The WordPress plugin lets you go into it from WordPress and save the results as a WordPress page.
NB. At the time of writing they have closed shop until later in May 2013. You can put your name down in the meantime and watch the video to see how it works, just click here.
TidyURL – Must get from vendor web site
This is a Six Figure Mentors free plugin. It's like Pretty Link Lite with a few differences and for free. Click the link to see a video on how it works.
The Remainder
Create a contact form to control how people contact you and hide your email. Lots of options. You may need another plugin to sort out the actual emailing of the data, see "WP-Mail-SMTP" below. I haven't finished sorting this out at the time of writing.
Hello Dolly
Comes as standard. Just a plugin example really and useless.
This is neat. It places banners on your WordPress pages and posts and can rotate more than one. Great for affiliate marketing.
Create your own custom buttons that you can place more or less anywhere.
This simply adds more font options to your WordPress editors tool bar; it adds ruler, super and subscript, font family, font size, styles and a cleanup messy code button.
This allows you to control how and where emails from WordPress are sent.
Export Your' Old Blog
This a nice easy part. Go to Tools -> Export off of your old sites Dashboard and export "All Content". All the content of pages, posts etc. will be exported and downloaded into one file.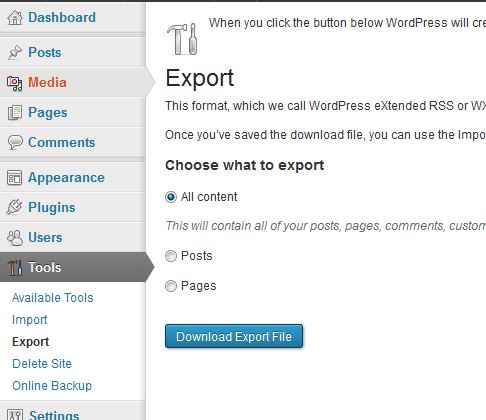 Import To Your New Blog
This part is pretty easy too. You may need to install WordPress Importer or similar as I have mentioned in the plugins section above.
Pick the WordPress option at the bottom in Blue.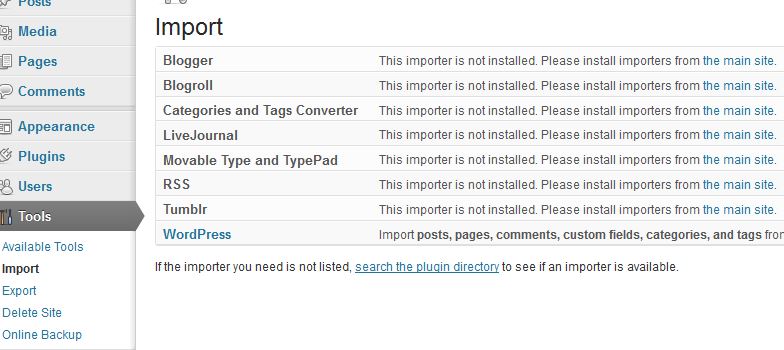 Then browse for the file you exported from your old site. The import process should ask you at this stage whether you want to import the attachments like videos and images from the old site, say yes to this.

That's it!
Reformat as necessary
I found that when I did this most of the links for images didn't get updated so I had to go through all the images and change the links to point to the images in the current WordPress site. I had the media library open in another window so I could pick off the images one by one and just change the source links to them. I didn't want to delete and re-insert all the images again. It was easier to edit each image and change the link.
Whilst I'm discussing the images, in WordPress 3.5.1 a featured image is automatically positioned on the page when you view it. I didn't like this so I unset all the featured images. I may come back to this and see if I can sort it out. I don't like the way WordPress have done this myself. For example, in the image below, the top picture circled in red is how a featured image is now displayed with the original inserted image below: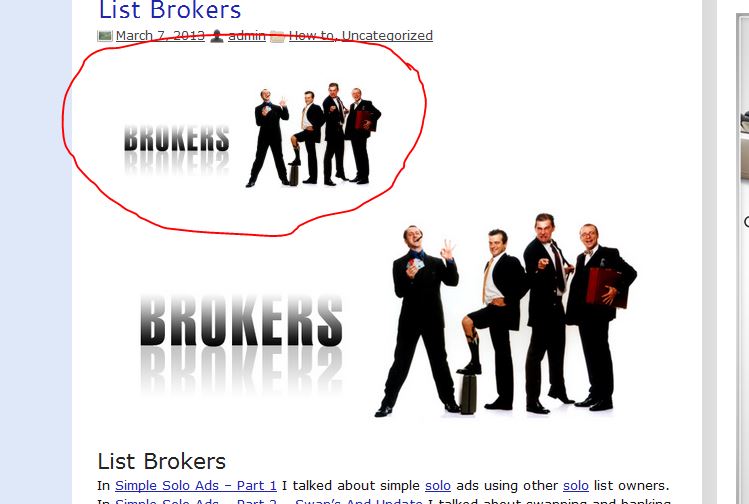 The same with internal links, I had to check these through to make sure they were pointing through the right domain.  This was easier as SEO Ultimate shows all the links on each page or post: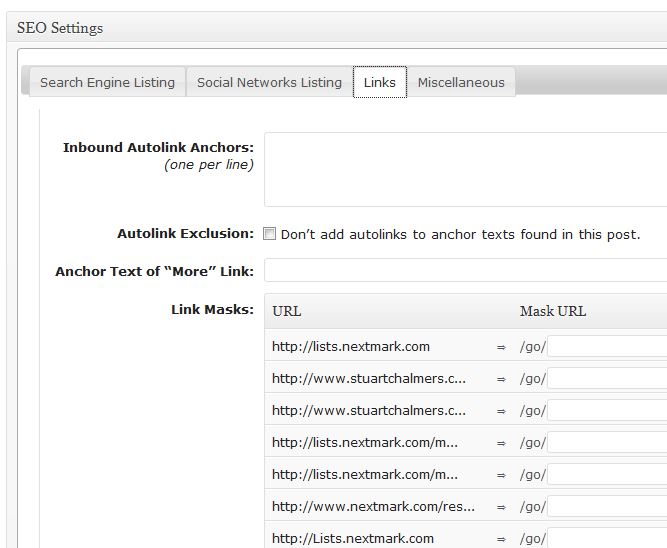 Inevitably some things needed changing and a few things didn't work anymore so I had to drop them or find another way of doing the same thing.
I had to adjust the menus a little as the defaults on the current theme were different to those on the old site.
I think in summary, have a good look around the new WordPress site, test and check every page and every post. Laborious but it's the only way you can be sure.
There may be some tools and plugins that can make this task easier but I decided just to get on with it as my site is not so big that I could not go through it all over a few weeks on and off.
Make Sure Video's And Any Other Objects Are Working
I checked through the videos and made sure they were all there, some I had to put back by copying from the HTML section on the old site to the new. Some I embeded using the "[embed]" shortcode.
WordPress doesn't always work well with Java script so I checked all the places with Java script to make sure it was still there and working.
Sort Out Any Widgets
I checked through all my widgets to make sure they all displayed correctly and that the links were still correct. I re-pointed links where necessary.
On this new theme there were more options for side bars and footers so I re-arranged a few things and added some things to take advantage of extra widget space on headers and footers.
The White Screen Of Death!
Ahhh, the "white screen of death". This happened to me when a plugin didn't install properly in the Network Admin section of my multi site WordPress. I came out of Network Admin and went back in again but to my horror all I saw was a blank white screen and nothing I could do seem to sort it out … OMG! Anyway, I checked out the forums and as usual there was an array of obscure advice many of which meant delving into the code behind the scenes. I didn't even try these as most of them sounded like a bit of a bodge.
I did come across one fix which made a lot of sense to me. The advice was to temporarily rename the plugin directory then go back into Network Admin (no white screen of death), rename the directory back and uninstall the plugin that was causing the trouble. This worked and after I had removed the errant plugin everything worked fine.
Access your web space and you should find the plugins directory here or along a similar path.
"ftp://mydomain.com/public_html/wp/wp-content/plugins"
You can rename the "plugins" part to "plugins-tmp" temporarily or something.
The only downside was that I had re-activate the plugins again but this just took a few minutes. No plugin data was lost though.
Re-point Domain Names
You may have one or more domain names pointing to the old web site. Don't forget to move these either by changing the IP addresses or by using URL forwarding. See this help page from Namecheap.
Useful Links
[sc:MySig]