List Brokers
In Simple Solo Ads – Part 1 I talked about simple solo ads using other solo list owners. In Simple Solo Ads – Part 2 – Swap's And Update I talked about swapping and banking with other solo list owners.
In this post I want to start talking about list brokers. This is either a step up or a step sideways depending on your point of view. The opportunity is to get more targeted and better quality leads but it's a little bit more tricky and more of a gamble than sending your solo's through other internet marketing solo list owners.
The Difference
The biggest difference is with what you are actually buying.  With solo list owners you are usually buying clicks and sometimes opt-ins. With list brokers you are usually buying email addresses to send to by the 1,000's.
Like solo list owners list brokers send out the email once per paid for run. You are not usually buying the data itself.
The data can vary in price quite a lot, anything from $1 to $1,000 per 1,000. Sometimes there is a flat fee to send to the whole list for example. $8,000 to send to 250,000 or $2,000 to send to 400,000. It depends on the quality, demographic, potential value of the list and how the list brokers want to charge. As a more exceptional example it costs $1 for each email on list of over 5,000 billionaires. Many lists cost from $25 to $200 per 1,000. Generally there is a lot of scope to find what you want for your niche at a cost you can afford.
Some Numbers
If you are buying by the 1,000 let's consider some statistics so that you can get things in proportion. This will be very generalised and things could vary wildly. I'll look at two scenarios:
Scenario 1: Let's say you email out to 10,000 email addresses through one of the list brokers at a cost of $1,000 and you get a 10% open rate and a 4% click through with 2% opt-in. That would be 1,000 opens, 400 click through's and 200 opt-in's. The cost per opt-in would be $5 each. That might not sound that good but if 50 people buy a $50 dollar product then that's $2,500.
Scenario 2: Let's say you email out to 10,000 email addresses through one of the list brokers at a cost of $1,000 and you get a 5% open rate and a 2% click through with 1% opt-in. That would be 500 opens, 200 click through's and 100 opt-in's. The cost per opt-in would be $10 each. If 25 people buy a $50 dollar product then that's $1,250, not great but still not bad for a couple of hours work once you know what you are doing.
Of course you might get nothing from a run or you might get much better than the above.
Not Always On Your Own
If the cost is prohibitive then a few of you can club together in a co-op or syndicate. As long as everyone understands that there is risk as well as reward to be had this can work well.
The Why And What!
The risk is paying a fair chunk of money for nothing but you do get:
Better targeted lists for your niche
Buyers lists where the members of it have bought something at least once
Can be very large lists, typically 100's of thousands to 100's of millions. You purchase segments or sometimes all of a list
Easy to scale up, send to the minimum and if the results are good send to more in the same list.
Recency is often an option so you can send to newer subscribers to a list or where they have recently bought something
Get the right list and it's effectively upmarket solo's
Minimum order values can make it expensive to start
which will result in good rewards once you identify lists that work well with your niche.
lists.nextmark.com
There are quite a few list broker sites but I am only going to talk about lists.nextmark.com in this post. There are some other list brokers search sites listed at the bottom of this post. The list owners could be individuals or companies.
Once you have picked some lists that look likely you should contact the list brokers / owners to get more information, double check the prices and minimum orders. You need to establish that the list is a good match for your niche. Check the prices as these might differ from what is listed on lists.nextmark.com.
Here's the front screen of lists.nextmark.com and the search I am going to perform: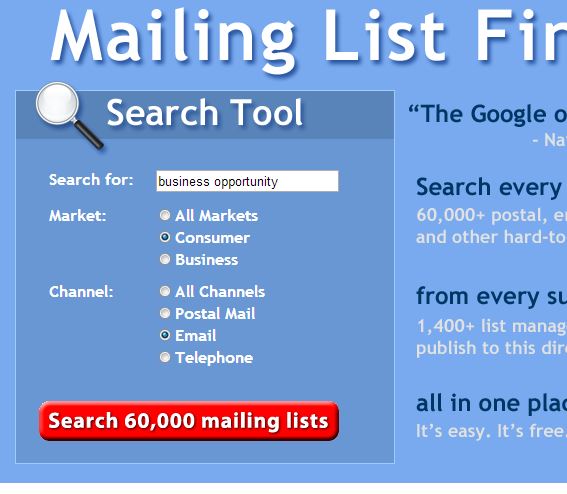 And here's the first screen of results: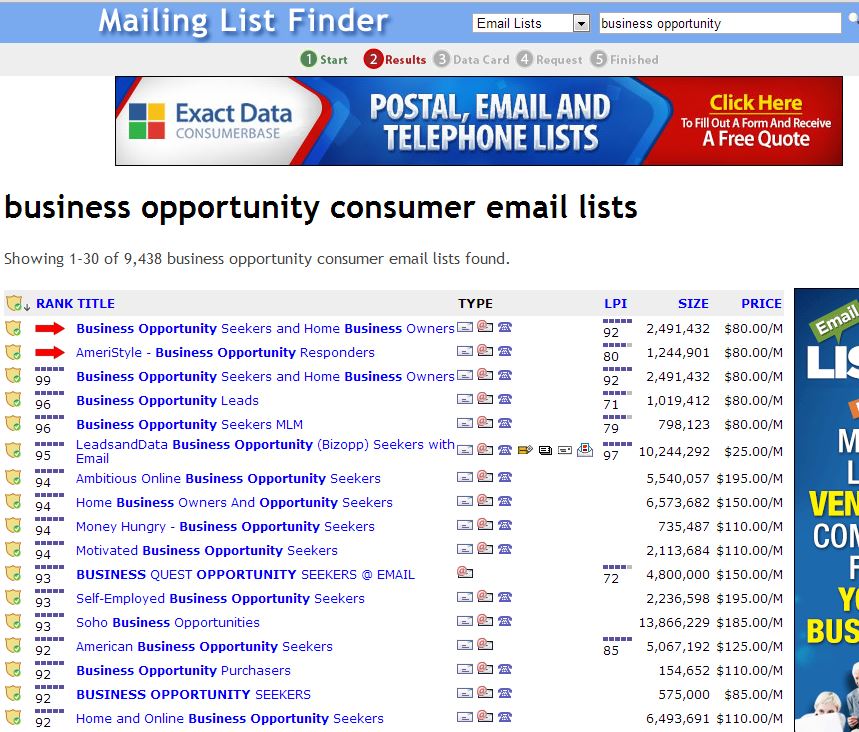 The entries with the red arrows are featured. The columns are mostly self explanatory but more about what the data means will be explained below.
For further details I'm going to pick "AVANTE MULTISELEX – ON MY OWN! BUSINESS OPPORTUNITY PROSPECTS". I contacted the owner who was very helpful and after a few price and minimum order adjustments we came to the conclusion that on this occasion this list wasn't right for my niche anyway.
Here is an explanation of what things mean as I understand it and from the glossary on www.Nextmark.com.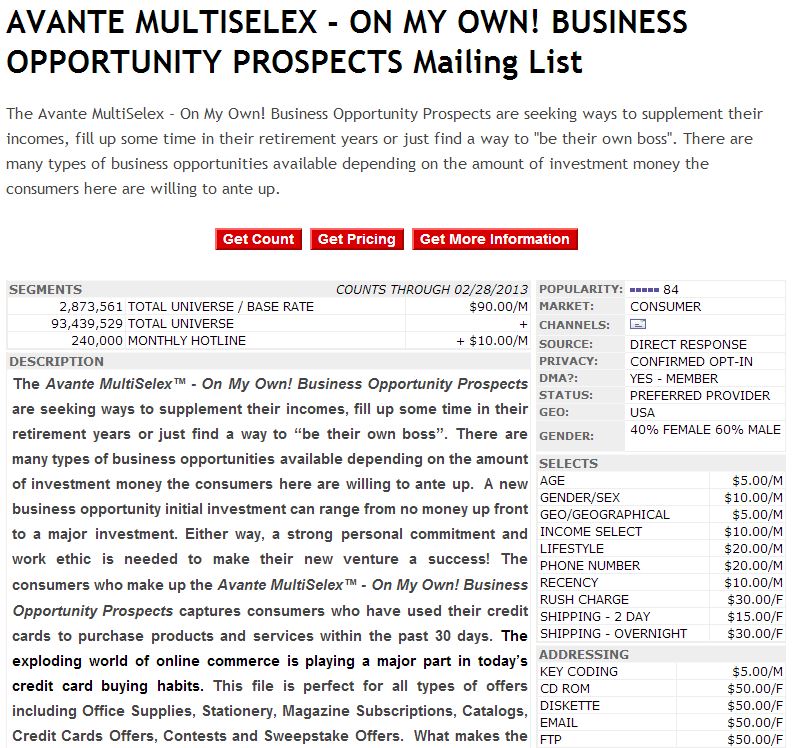 First of all there is a summary description followed by a more detailed description.
Note that there are selects that you can pay for so if for example you are targeting males between 18 and 30 you can get this data.
The Addressing specifies what/how you can send out to a list.
The segments section:

M=1,000
E=Each
F=Flat fee
+=Add on feature / qualifier
Note that the date in "COUNTS THROUGH 02/08/2013" is the last time the counts were updated.
Total Universe – I don't quite know what this means in it's current context???
Total Universe / Base rate:

The number of records on the list
The cost per 1,000 (M=1,000) ($90 per 1,000 in this example)

Hotline – A hotline is a segment of a mailing list that represents people who have had recent transactions with/through the list owner. These may be buyers or subscribers who purchased in the last 30, 60, 90 days etc. The hotline is a desirable segment of the mailing list because it has been proven to be a generally more responsive segment. As such, hotlines typically cost a bit more to rent.
Monthly Hotline in the above example:

The the number of people who have transacted within the last 1, 2, 3, 6 months
The cost per 1,000 ($10 per 1,000 in this example)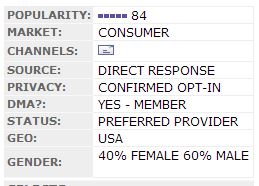 Popularity – The List Popularity Index (LPI) is a mailing list's popularity rating on a range from 0 to 100, with 100 being the highest rating. The LPI scores are calculated using a proprietary algorithm that analyzes recency and frequency of more than 100,000 outside list recommendations made in the trailing twelve months of the scoring date.
Market – A market is the target audience for a direct marketing campaign. The market may be generally defined as business, consumer, government, or other. The market is more specifically defined through the segments of the mailing lists chosen for the campaign.
Channels – This the primary communication type, in this example, postal address but it could be postal address, email address, phone number etc.
Source – The source is the origin of the names on a mailing list. For example, names might be sourced from catalogue buyers, magazine subscribers, trade show attendees, etc. It's important to understand the source of a list because it is a good indicator of its responsiveness to your offer. There is a big difference between mailing lists sourced from purchasing behaviours and mailing lists that are surreptitiously compiled.

Compiled lists – A compiled list is a list that has been created from multiple sources including public records, online registrations and surveys, direct response, directories, phone books, or court records. These are not desirable as their actual source is less qualified. Sometimes lists are made up of mixed sources so if the percentages can be established it may still be worth using.
Direct response – Is a type of marketing or advertising that allows potential customers to respond directly to the marketer to place an order, send a donation, fill out an application, request or supply information. This is a desirable attribute.
Buyers list – All the members of this list have bought something at least once. Very desirable.

Privacy – I think this means that the data was or was not obtained by clear opt-in to the list. It could be "Unknown".
DMA? – The direct marketing association (DMA) is the leading global trade association of business and nonprofit organizations using and supporting direct marketing tools and techniques.
Status – I think preferred provider is pretty good. The NextMark Preferred Provider Program gives list owners the attention they deserve through better ranking and highlighting in search results. It is designed for list owners who want to stand out from the crowd.
GEO – Where the people in the list come from.
Gender – gender split by percentage.

As you can see above for this example, once you buy you are pretty much committed to a run.
Net Name – A net name arrangement is a clause in a list rental agreement that provides credit for duplicate names in the mailing list being rented. When renting a mailing list, it is likely that list contains some of the same names on your own house list or on other lists you are renting. These duplicates are typically identified through the merge/purge process. The net name arrangement consists of a percentage and a run charge. The percentage is the minimum percentage of the quantity ordered that must be paid at the full rate. The run charge is the rate charged for the duplicates. For example, suppose you order 100,000 names at $100/M with an 85% net name arrangement and a $3/M run charge. Then the merge/purge process reveals 9,000 duplicates. In this scenario, you would pay for 91,000 names at $100/M and 9,000 names at $3/M. Net name arrangements are not available on all mailing lists and are typically only available on larger orders. I think this pre-supposes that there is still worth in sending to the same email address more than once, it will result in it being more noticeable and/or a subsequent view for the recipient especially if there is an interval between the first and subsequent emails.
Cancellation fee – A cancellation fee is a flat charge that is applied to the buyer of a mailing list when an order is cancelled. If the order has been run by the service bureau, then run charges may also be applied along with the cancellation fee.
Here are some costs according to two example lists
AVANTE MULTISELEX – ON MY OWN! BUSINESS OPPORTUNITY PROSPECTS
The minimum order is 10,000 names.
$95 – Cost per 1,000
$10 – Cost for hotline per 1,000
$10 – Cost for transmission per 1,000
$95+$10+$10=$115 per 1,000
10 x $115 = $1,150
LeadsandData Business Opportunity (Bizopp) Seekers – cheap!
$25 – Cost per 1,000
$10 – Cost for hotline per 1,000
$0 – Cost for the emails per 1,000
$25+$10=$35 per 1,000
5 x $35 = $175
$175 is below the $750 minimum order so …
22 x $35 = $770 (22,000 to send to)
Questions To Ask
Apart from the available information above it may be worth asking a few questions such as:
What is their policy on payment?

Deposit?
Money up front?
Credit?

Ask list brokers about their niches?
Will they allow landing page destinations, if not then no good to you if that's the way you get opt-ins.
Is there a best day or time to email out?
How often do they email out?
Continuity – do users come back to it? If you are talking to the list owner then I wouldn't expect them to say no to this.
Ask about getting typical data, not the best sample as this will result in disappointment if you scale up.
You probably don't want old data so ask about how often the list is refreshed and how.
Other Links
I hope that this was useful and I expect I will visit this area again with an update.
If you want to know more about internet marketing strategies then simply signup for more info by clicking HERE or the big banner on the top right, the one with Stuart Ross and Jay Kubassek … hey, who are they and how did they manage to amass over $45 million through the internet? Must be something in it then 🙂
[sc:MySig]
Simple Solo Ads – Part 3 – An Adventure With List Brokers