Mobile Apps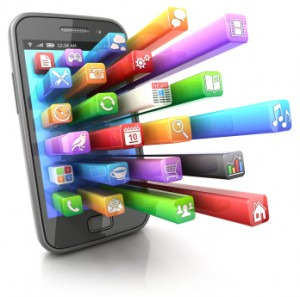 There are loads and loads and … loads of mobile apps available for both Android and iPhone. I juts had a look and it looks like iPhone and Android are more or less neck and neck with about 700,000 mobile apps each.
I guess Blackberry are fading and to be honest I never liked them much anyway (sorry Blackberry lovers). Oops, I must not forget Microsoft Windows for Mobiles which I am sure will burble along for a long, long time but still doesn't look like it's going to set the world on fire.
By the way, although I'm talking about mobile apps this includes tablets as they either use Apple OS or Android too. They are essentially the same as a mobile but with a bigger screen and less or no telephony functionality.
As you may have deduced I have not tried all of the mobile apps that are available 🙂 My list is purely subjective and I don't keep up that much.  For that reason I'm going to look at types of mobile apps more than particular mobile apps. The point of the list is to suggest some mobile apps that you might like that you hadn't thought about yet. The problem with so much choice is there are things you may not have come across yet.
Whilst I was looking about a came across a new kid on the block mobile operating system – Jolla, will it fly or will it die, too soon to tell. It looks like it's aimed at the Chinese market.  See also www.jolla.com
Android Vs iPhone
Uh, oh! Some people avidly like one or the other, both or maybe don't care. I have a preference and that's Android. My wife has an iPhone 4 and I don't like it much. I recognise that Apple pioneered this kind of mobile interface and Apple make some damn fine stuff, this I cannot deny. Apple's marketing is brilliant so hats off to them for that.
There are two things I don't like about the iPhone OS and that is Apple are a bit too proprietary for me and, iTunes, I really don't like iTunes. It's a heavy bit of software, gets in the way and I just don't like using it. As Apple's OS's are built on top of Unix you would think they would be advocates of open systems but it seems they are not.
Android I like better, it's an open system and I think it's actually easier to use than the iPhone and, it integrates really well with Google, no surprise there 🙂 No iTunes either!
There are a lot more Androids than there are iPhone's.  iPhones are expensive and if you want to use the iPhone OS there is only the iPhone. With Android you can pick your make and model of device of which there are many.
The 15 mobile apps in no particular order
Many of the mobile apps I mention are probably available for both iPhone and Android.
Task management app – I use Astrid which has lots of features such as alarms, prioritisation etc. It sync's with Google tasks too. There are lots out there but I like this one. I would forget my head if I didn't make a note of things.

Card reader app – If you get a lot of business cards given to you, you might find this really useful. You simply take a photo of a business card and this little app formats the details on the card so that you can save it as a phone contact, a google contact, to Facebook, to Twitter and a few other places. I use CamCard which works quite well. Results can vary depending on the card.
PC SMS client app – I find texting on mobiles a bit slow and awkward so when I am in front of my computer I use an SMS client that connects to my phone over WiFi or in some other way. Then I can read, type, send etc my text messages from there. You can access all your contacts. Some of these let you access other data on your phone from your PC or laptop as well. I use EasySMS which works well from your PC's browser but it's getting a bit old now and there are a lot more of these around now like SMS texting from Computer which I am just trying out and looks better.
Flashlight app – Ooh, so simple and so useful. You might have one of these bundled on your phone already but if you haven't get one and if you have an LED on your phone for camera flash this can be utilised as a torch and it's bright too. There are loads of them just pick one. I use it a lot and has been a bit of a life saver at times.
Decent file manager app – The standard file manager that comes with Android is ok but there are better ones. I use ES File Manager which is even better on a tablet and incorporates cloud services such as Dropbox or Google Drive.
Find my phone app – Erk! What happens if you lose your phone.  Maybe it's behind a cushion or in a friends house, what happens if it's stolen. A phone locator and remote control system to lock down your phone if it's stolen is a must I think. I'm just about to try a new one, Android Lost Free which looks, well, awesome!
Data counter app – Phones have counters for WiFi and Cell data use built in now but they are not always nice to use. If you have a data limit like 500mb or 1gb you might already know that it gets expensive if you go over the limit. You can get apps that keep track of your data usage and raise alarms when you get near your limit for the month. I'm using Netcounter at the moment which I have had for quite a while, there may be better ones now.
Document reader/editor app – I at least need something to read various documents now and then and perhaps edit them. Documents such as Word Docs, Excel spread sheets etc. I use QuickOffice which was free when I got it but doesn't seem to be now. You could try Olive Office Premium Free.
Book reader app – There are lots of which Kindle is probably the best known. Great for reading not only books but PDF documents as well.
Music search app – What's that tune I hear playing? Start-up Shazam or Sound Hound, hit the button and if it can figure it out it will tell you. It will also keep a history of all the tunes you have searched for.
Task Killer app – I think this is built in on most phones now but if not get one of these to clear down memory by killing background apps if it starts getting filled up and your phone is slowing down too much. I'm using Taskiller but there are loads to choose from.
Remote login app – I use Teamviewer which from a mobile is not that easy to use but if you have to urgently access your PC or someone else's to check something out then this is a must have. Much easier to use from a tablet.
Wiki Mobile app – You don't really need this but it makes accessing Wikipedia a lot easier from a mobile and it's a lot quicker as it doesn't automatically download the images that go with an article. I use this quite a lot.
WiFi Analyzer app – I use, um, WiFi Analyzer. This is a tool that tells you the strength of the wireless signal in your local area network which makes it much easier to analyse you wireless coverage and whether you need to adjust things, add more powerful aerials or access points. See I Want To Setup A Wireless Network – Part 1 for more on this.
Quickmark – This is one of those mobile apps that hasn't really taken off as well as might be expected but every now and then you need it. Quickmarks are those square bar code thingies that you see every now and then which if you use the camera to capture, it will give you a website address, some contact details or some other bit of useful info.
These are must haves in my opinion
Password manager – It's the same issue as on any computer, too many passwords to remember. I use OI Safe at the moment but will change to KeePass which works on a PC and a mobile, when I get around to transferring all my passwords to it.
Antivirus & Add-ons detector – Unfortunately you need all this stuff on mobiles and tablets now, I use Anti Virus Free and Addons Detector.
Cloud drives – I use Dropbox and Google Drive – they are great for sharing files, backing up and having a central deposit for them.  There are lots of others out there but these are two of the most popular ones.
Adobe Reader – I guess this needs no explanation.
Backup utilities – Most of your active data like contacts or the mobile apps you have installed are backed up by Google anyway but I find AppList which saves a list of your apps to a file useful and I like to back up my texts now and then using SMS Backup & Restore which will also backup to Dropbox. That means the backup is of off your phone for extra backup.
Social media chat – One or more of a myriad of Instant Messengers

Google Talk

Social Media – One or more of a myriad of Social Media platforms
What are your favourite mobile apps?
Also see My 10 favourite free utilities and Useful stuff for making videos and a bit more (some free).
[sc:MySig]