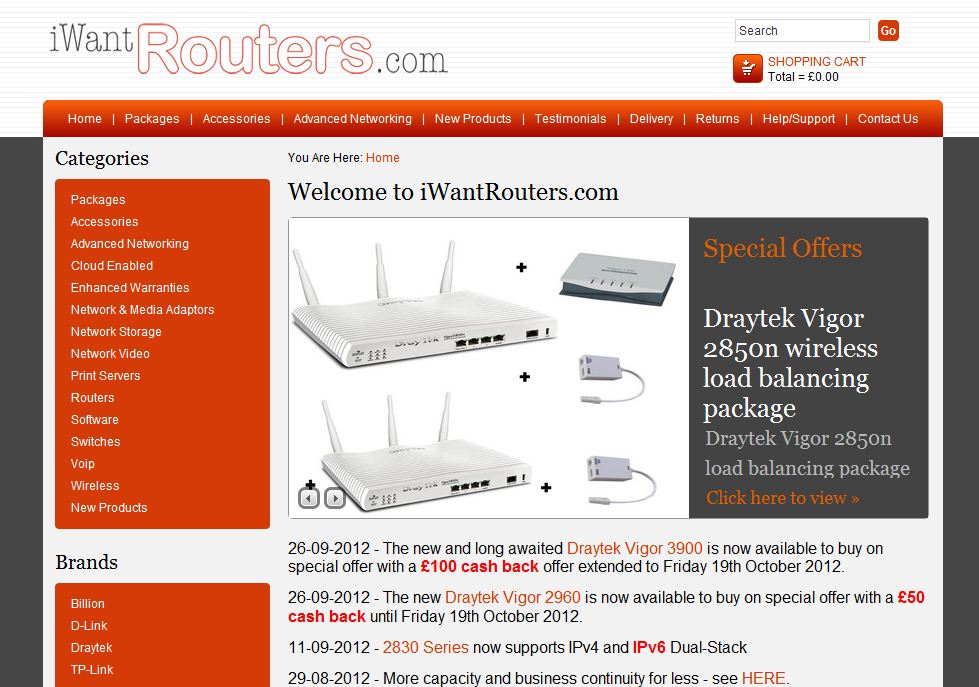 For this blog I mostly talk about internet marketing related stuff with an occasional digression.  So far I have laid off the bad jokes and really off track stuff.  In this blog post I'm going off track but still related to internet marketing, just a bit more physical because … if you do anything online you need to be connected …
As well as internet marketing I also run an eCommerce site selling routers and other network gear called iwantrouters.com.  With a 20 year background in IT and 7 years in telecoms I have gathered some proficiency in these things (well I like to think so).  In fact as well as selling routers etc., I can also supply business class broadband, telephone lines, phone systems and most of the other stuff that goes with telecoms.  Anyway, I am not writing this to pitch my stuff but to talk a bit about broadband, in a straightforward and non-techy way … oh, what the heck, what I can supply is listed at the end of this blog … if you're interested just let me know.
Now my particular area of interest in this arena is broadband and VoIP (Voice Over Internet Protocol, telephony over the internet in otherwords) and I hope I pretty much know my stuff.  If you depend on the internet then you might want to pay attention to your broadband if you have not done so already.
Here's the question, if your broadband goes down for 2 days how will it affect you?
If you just use it for the odd email and domestic browsing then it probably won't affect you that much.  If your lively hood depends on it or you run an online business then it will probably be a different story.
Simple things you can do for free!
There are some things that you can think about and take action on before anything gets the chance to go wrong.
If you are on good terms with your neighbours they might let you connect to their broadband if yours goes down and vice versa.  In the past I have known adjacent businesses share their broadband temporarily by putting a cable through their windows.  If you go down this route make sure you have a long enough cable ready and waiting.
Maybe your neighbour will let you connect to their wireless.  You can offer your wireless password in exchange for theirs so that you are both backing each other up (I've done this).
If you have mobile broadband on your mobile phone, sometimes you can set your phone as a wireless hotspot and connect to it from another wireless device such as a laptop.  The signal needs to be adequate, it might not be very quick, it will probably use up the phones battery fairly quickly and watch out that you don't exceed your monthly allowance if you have one, it might get expensive.
If you are already in a hot spot such as BT's Open Zone you might be able to use that if you are subscribed to their service.
Some routers such as the Draytek Vigor 2850n have a USB port that you can plug a mobile broadband dongle into and use that.  As above, watch out for mobile broadband allowances.
Domestic Versus Business Broadband
A lot of people like "cheap" but sometimes cheap actually ends up being expensive and can be a false economy.
A lot of domestic broadband is cheap, you might pay £7/$10 a month for it, maybe less.  You might have it installed without incident and it might work flawlessly for years.  You might have problems with it along the way but the customer service you get is good and problems are resolved without too much fuss.  Or, you might have a nightmare of an experience where installation takes weeks or even months, it never works properly and you seem to spend half your life on the phone trying to resolve it.  Don't get me wrong this happens on the business side of things too now and then but not as often and it's usually dealt with in a much better way.
The service you get with domestic broadband is seldom as good or consistent as the service you get with business broadband. If you think about it, that's not all that surprising, if you have service on a shoestring then the customer service is likely to reflect that.  If you have cheap domestic broadband and you have to contact customer services using an 09 number very often then your broadband will not be so cheap anymore, not once you see the charges for calling the 09 number.
Business broadband will usually cost more but it will be better.  The quality of it should be better, the customer support should be miles better, the level of knowledge of customer support should be way better, the time to fix should be faster and you should only need to spend a few minutes on the phone to your supplier instead of the hours being shoved from pillar to post that sometimes happens with domestic suppliers.
In my experience things go wrong with lines and broadband around 25% of the time, which is probably more often than you might think.
So, the lesson is; if your broadband is important to you then business broadband is usually better.  Less down time may mean less loss of income and probably less inconvenience!
Near bullet proof supply
This may not be for everyone but there is a fairly inexpensive setup that will insulate you from any significant loss of broadband connection and it's this, as extracted from my website at "Draytek Vigor 2850n load balancing package" where you will also find all the information you need about this, it's simple though and only takes up a couple of screens:
"Let me introduce you to the Draytek Vigor 2850n. This router can take three broadband connections; two land-line broadband connections and one mobile broadband connection.  That means it can give you twice the capacity and if one broadband supply should fail then the other one keeps going.  If both fail then it can fail over to the mobile broadband supply.  Does that sound better than having all the risk you get with JUST ONE SUPPLY?"
The essentials of good broadband
I have covered this already in an "I Want Routers" blog post "How can I get more from what I already have (broadband)?", please have a look at your leisure.
My pitch
You can ignore this bit if you like but if you are interested then here's my straight up pitch …
Routers n' stuff

Billion
D-Link
Draytek – My personal favourite
TP-Link (not much on the web site at the moment but I can get most of it)
Netgear (not on the web site at the moment but I can get most of it)
Trendnet (not on the web site at the moment but I can get most of it)
Phone stuff:

Yealink IP Phones
Draytek 2820 IP PBX
Below here, not on the web site at the moment but I can get most of it:

Polycom IP phones
Cisco IP phones
Digium Phones
IQ IP PBX
IP Genie IP PBX

Telecoms stuff – contact me for this:

ADSL & VDSL (AKA FTTC which means Fibre To The Curb).
Premium internet connection services such as EFM (Ethernet First Mile), leased lines etc.
Analogue lines
ISDN2e & ISDN30e lines
SIP lines
IP phone systems (not usually the older type traditional ones like Avaya, Panasonic etc.)
Most of the telecoms stuff is not on iwantrouters.com, not yet, but I can supply it none the less, just contact me.
The products are good, even the budget end ones.
Customer service is better than you will get from most suppliers, of course I would say that wouldn't I 🙂
My prices are not necessarily the cheapest but they are good and I don't hide stuff in the small print.  All costs are declared so you don't end up with any nasty surprises.  There are no 09 numbers to ring and you won't get ignored if you leave a message.  Anything wrong will be fixed as soon as it can be, within SLA where applicable and if humanly possible.  I don't pretend to deliver everything perfect first time and every time because that's a promise that no company I have ever heard of can keep although some promise it and hope they can talk their way out of it on the occasions that things do go wrong.  If something goes wrong it will get sorted out ASAP, I can promise that!  The suppliers I use I declare so if we get blown up or something tomorrow you are not left high and dry.
Ok, done now 🙂
Let me know if you have any stories about broadband and let me know if I can help you!

---
Stuart
Thanks for reading this far.
www.stuartchalmers.com
Please like my Facebook Fan Page
www.facebook.com/StuartChalmersNormalGuy
End – Is your connection to the internet important to you?